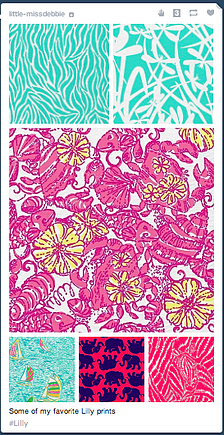 With the death of Lilly Pulitzer at 81, we are reminded of the unique branding phenomenon that was Lilly.

Even though her business success pre-dates our own digital media frenzy by several decades, her story reveals the elements of brand-building that promise longevity, flexibility and just the right amount of creative tension.
As with many successful business ideas, accidental occurrences can spark a series of events that lead to promising results.
Lilly Pulitzer: An iconic brand with staying power
Her personal biography shows Lilly Pulitzer to have been a true iconoclast. By way of her mother, an heiress to the Standard Oil fortune, Lilly Pulitzer had a privileged upbringing. After an education at the Chapin School, Miss Porter's, a brief college stint, Lilly began to fill her time by selling fruit juices sourced from the Pulitzer citrus groves.
The legend tells us that Lilly and her partner in the juice stand needed to address the messy business of selling citrus fruit juice, and juice stains on their summery clothing generated a design idea. Those now famous sleeveless shifts were commissioned with boldly patterned fabrics of citrus fruits and became their uniform.
Bold fabric designs and unstructured shift dresses identified her wares as a "Lilly" and appealed to a naturally occurring target market that had the means for global travel -- in particular to tropical climates well-suited to her designs.
When the designs appeared in fashion magazines, the Lilly brand broadened its reach beyond her inner circle. Even if you weren't a Who's Who on the society pages, you could capture some of that rarefied air by wearing a Lilly.
The Lilly Pulitzer brand was sold to Oxford Industries in 2010, and reported net sales of $122.6 million in 2012. Yet today, the Lilly brand is true to it's origins, even as it is housed in a large corporation and spans many product lines.
How to create a brand: visibility, experience, messaging
The colorful Lilly design system, a touch of irreverence, and a deep respect for the power of social connection, and you have the Lilly of today.
The brand fully leverages the original appeal, and successfully uses social networking and digital technology to connect with potential customers, increase the size of its in-house email database and build a community for Lillypulitzer.com.

On Instagram, Pinterest and Tumbler along with LinkedIn, Facebook and Twitter (@LillyPulitzer), Lilly maintains the feel of a close knit club to which we all secretly want to belong.

Check out the Times link at the top of this blog if just to see that photo of her, half-hiding behind a mannequin in one of her Palm Beach Stores. Classic Lilly.
Building your brand: strategy for SMB's and mid market companies
You see where we're going here, don't you? Lilly Pulitzer instinctively built the foundation for a great brand -- first with her peers and then a larger audience.

The magic was there from the start. A tight focus, careful messaging that resonated with her very specific audience, and the adoption of contemporary marketing methods helped it grow.
If you are working on your company's brand, here are a few suggestions:
Start by talking to current customers. Seek to understand their buying process and learn why they love your company.
Tap into the category conversation, listening to customers like yours on the social web. With careful listening, you'll get a sharper understanding of customer needs.
Apply these insights to position your brand and develop your brand identity. Use brand storytelling and brand design to underscore your uniqueness and r

esonate with your ideal customer.

Develop a marketing strategy to build brand visibility online (which is where the average customer spends 1.8 hours of each day!)
Engage with customers and create a brand experience that serves their needs. Read this branding case study for inspiration!
Developing your brand building strategy
Sometimes it takes an outside perspective to see exactly how to do that for your growing business. Instead of highlighting product features, talk about the things that matter most to your customers.
If you're struggling to figure out the precise way to build your brand, let's talk: