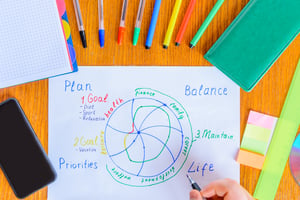 I'm forced to prioritize daily—and many times throughout the day. My daily routine actually starts the night before when I put my workout clothes next to my bed (wishful thinking!). If I make the girls shower at night, that's 10 or 15 extra minutes the next morning… so, let's do that.
Once they're on the bus to school, there's no more hiding from the beastly inbox of things waiting to be addressed. Sometimes that's not so simple to determine what comes first. The same applies to business and marketing. You know certain pieces of strategy are more pressing than others, but how do you select, definitively, the order in which they rank?

The short answer is you can't know with absolute certainty, but there are ways to apply a semi-scientific approach to prioritization (a topic I'll tackle in next week's blog). However, understanding why prioritization is imperative to success is a significant first step.
Prioritize, but Be Ready to Pivot
"Understanding why prioritization is imperative to a company's success is a significant first step."
Simply put, prioritization is the process of ranking opportunities based on a few factors: level of effort, cost, and the impact on a goal. Impact is typically (and most powerfully) defined as revenue, but it could also be market share, awareness, engagement, etc. There is a clear methodology involved in this ranking process; it's not just "picking your battles."
Prioritization commonly comes in "package" form, as in the culmination of annual planning. Where some teams falter is neglecting to check in on those plans periodically to ensure focus is still in check. Because, as we all know, businesses turn on a dime and environmental influences shift with a snap.
For instance, new competition can sprout up with little warning and completely disrupt markets. Regulation in industries like healthcare, finance, or food and beverage require strategic pivots. Media innovation may present new opportunities that have a first-mover advantage.
With all these moving parts, you need to be nimble enough to change your plan, reprioritize, and not be bound by a strategy that was "approved in January."
Budget Sets the Table, Actionable Strategy Fills the Plates
When considering initial prioritization or potential reprioritization, each decision is situational. Again, the core methodology refers back to identifying opportunities, assigning value, and then tackling the plans that deliver the best ROI with greatest impact.
"You should feel nimble enough to change your plan, reprioritize."
To be sure, there is a pretty important factor in all of this: budget. An opportunity might arise that is appealing, but if budget doesn't allow, you have to get creative. That doesn't necessarily mean relegating pieces of strategy to the chopping blog, but it may. Aside from prioritization exercises, performance analysis and testing can identify what needs to go.
Ultimately, regardless of how big or small a budget you're working with, you need to know exactly what you have to invest so you can craft strategy and plans with actionability. In a long-term plan, budget may be on the periphery but the dexterity to optimize it and react to it should still (and always) be in the forefront.
The Best Strategy for All Involved
Prioritization works best when everyone does it—and does it well. I've found that it is easier to motivate teams when there is a clear value for all. The value to the business is that things get done with more focus and speed; the value to the team is that there is less confusion, clutter, unclear direction, and overall stress in the day-to-day.
When everyone is holding hands on the same plan, it is infinitely more effective—something we've come to perfect, whether internally or with the clients we serve.