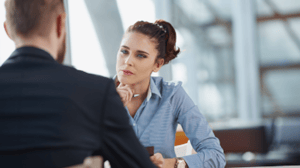 Ilene and I recently attended an event that matched us with companies who had identified and expressed varying needs or holes in their marketing efforts. It was modeled against from a speed dating scenario, where we had a set amount of time to chat with each company representative and engage in a mutual exchange of "We need this" and "Here's how we [White Space] can help."
It was a long, full day but a good exercise in exploring different industries and corporate personalities. We also got a view of how companies perceive us, as an agency, and what that may mean to an entity that already has in-house marketing.
It doesn't have to be "all or nothing," in that situation, but it's imperative to approach those opportunities with clear expectations- on both sides.
Quick Win vs. Quick Fix
Navigating clients who want the one-off project is a delicate balance, and in all honesty, it haunted us for a long time. Ultimately, we settled on identifying the difference between a quick win and a quick fix. A tactic without a strategy is a desire for a quick fix. I can't say it never happens, but it almost never works. As an agency, we are in a position to want to (and have to) show value as soon as possible. But, we also know that quality marketing takes time—typically six months to see any significant change.
Without a defined strategy behind that approach, it's not sustainable.
Say for example, a client wanted us to take over their social media marketing. There are tactics we could employ to initially boost traffic, but without a defined strategy behind that objective, it's not sustainable. Managing expectations and drilling down to the KPIs and goals of that social media campaign would be critical for longstanding success. If the client's priority was brand awareness, we would plunge resources into developing the creative. If it was sales, we might have a clean product image and allocate dollars in a paid campaign.
Another way to maneuver a similar "a la carte" request from clients is to ask them to turn that request on its head and instead focus on just one piece of the customer journey, even if it's only for one target persona. It's a small, measurable project that allows us the room for strategy and tactical implementation.
Benefits of Outsourcing
Even if we get along swimmingly with clients on small, for-hire projects—and help them accomplish their goals (and more)—we also know there are many benefits of hiring an agency versus maintaining marketing in-house.
Pros of hiring an agency:
Wide-ranging skill sets, creativity, diversity, and the brain power of collective expertise
Deep benches "on call" that can ebb and flow with business needs
Less workplace politics
Maintaining an edge on best practices, trends
Speed—no long-term budgeting, recruiting, interviews, etc.
Access to shared tools that can be too costly for a single organization
High capacity
Of course, we do recognize why companies prefer to go the in-house route, such as:
Consistency in company culture, values
Face-to-face communication; no "out of sight, out of mind"
Personal investment in success
Less turnover
Sometimes there's a natural transition for companies who start with us, grow, and eventually establish their own marketing department. One of our early clients was a small financial company, approximately $3M in yearly revenue. Their Goliath in the industry was Dun & Bradstreet. How are you going to beat that kind of animal in an SEO war? Answer: You really can't, or at least not without blowing up your annual marketing budget.
We settled on identifying the difference between a quick win and a quick fix.
After two years of working with them, and really doing a lot of work on the sales enablement piece of their business, they wanted to service their sales team with a small internal marketing department. Since we were ostensibly their marketing department for the last two years, we would be able to offer support for the new director of marketing and help in that transition to new hires.
While no one likes for business to slow (or cease), it all goes back to building and strengthening client relationships that keep doors open for whatever the future might bring. With our relentless approach to ensuring our clients' satisfaction and success—no matter how they employ our expertise—that future looks very bright.