Why do we attend industry conferences? To see and be seen, to be part of the industry camaraderie, and if we're being honest, to take advantage of a few days in sunny Florida.
If you're lucky, you walk away with a few nuggets of information that you could apply to your everyday business and a fistful of potential clients. But, in order to get there, you have to do the work.
Prep Yourself, then Rep Yourself
Before
Participate in social media. Any industry event you're going to will be promoting it on social media. You have the opportunity to be part of that conversation. Other attendees and exhibitors worth their salt will also be following those threads, so you get the benefit of added exposure even before you get there.
**Here's a little cheat for social media: Go to the Sponsors page; they wouldn't be sponsoring the event if they weren't relevant, and chances are if they spent money on the event, they are leveraging that spend on
social media.**
Think about the blog post you will want to write after the show. Is it a recap? Ideas or concepts you learned? Knowing what you want to write about in advance will help you collect the details during the event.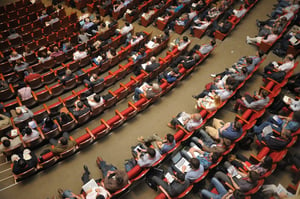 Draft a copy of an email that you'll send to the contacts you met at the event. Of course, each one will be customized and tailored to individual conversations, but having general messaging ready before the event will allow you to deploy follow-up emails in a timely fashion.

Two days after the event is ideal. Any longer and you're already forgotten.

During

If you're into Twitter, and your industry eagerly follows hashtags, live tweeting from the event is fun and offers opportunities to get new followers and engage in meaningful conversations among a relevant audience. Thought leadership delivered through social media is an effective way to establish credibility. Always @mention the speaker whose session you attended. Follow, Like and Retweet other participants tweets to build an authentic audience.

Take a few audio notes about the sessions or keynote speakers so you can easily write a blog post. If you're really ambitious, you can publish a summary blog post after each day of the conference and deploy it in social media with the hashtags relevant to the event.


After


Post-conference, you're going to want to capitalize on the relationships you made with a personalized email. Remember that template I was nagging you about? Insert a few customized sentences and you're ready to rock. Attach a recent blog post you wrote on the topic you spoke about or an upcoming or on-demand webinar they might find useful.
"Keep nurturing the relationships you made."
Keep nurturing the relationships you made. Follow them on social media. Interact once in a while, but don't stalk. If you're a HubSpot user like we are, add them to a sales sequence so they are receiving consistent communication from you.
Do Your Research & Invest Wisely
One last note… it's important to research conferences carefully before you decide to invest time and money (even if they are in Florida!). Who are the speakers and what will they be showcasing? If sessions seem more like sales pitches than informational/educational dialogues, the outcome will likely be disappointing.
But, if it's truly an opportunity to connect with your peers, network successfully, and even check out what the competition is up to, these venues can be highly valuable.