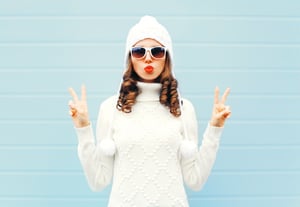 When asked how I define my role at White Space, I like to say that I take Ilene and Adrianne's good thinking and strategic planning and bring it to life with our team's tactical execution. Admittedly, I'm not particularly patient. I've been on mind-numbing internal phone calls where these two were debating if something was a strategy or a goal.
As badly as I want to get to the tactics, wading through the strategic process is an important step. Plotting out marketing scenarios in the beginning makes for better, more actionable decisions in the future.
Whittling Down the Details
"It can't be too short or too expensive, and above all, it absolutely cannot be too itchy."
Let's pretend our client needs a white sweater. They determine I'm the best person to help them achieve this goal, not only because of my superior fashion sense, but also because I'll make the process of finding the perfect white sweater a comfortable experience for them. I start out with some questions:
Why do they need a white sweater, not another kind of top like a button down?

What color white sweater? Off white? Crisp white?

Is it a v-neck or a warm-and-wooly?

What are they wearing it with? Jeans? Boots? Accessories?
It's the stakeholder interview of the situation, and sometimes it's met with impatience. They just want to get a white sweater on their body. But, not so fast. I'm savvy and I know they're going to be picky. It can't be too short or too expensive. Above all, it absolutely cannot be too itchy.
Let's face it, there are a lot of sweaters out there, so they don't have to settle. Eventually, we come to the conclusion we want a slightly-fitted, off-the-shoulder, to-the-hip, winter white and cotton knit sweater.
Strategy is Nothing, if Not Efficient
Now, we have to figure out the strategy in finding that perfect sweater. Are we going to look for it online? Flip through magazines? Go to the mall? Picking the strategy requires us to weigh their investment of time and resources. That said, even if time and resources are limitless, the strategy to get to the goal must be efficient.
"Even if time and resources are limitless, the strategy to get the goal must be efficient."
After some deliberation, we decide to go to the mall (Not surprising! I am, after all, from Long Island). It aligns best with what is most important to the stakeholders: specific style, non-specific price point, and an assurance the sweater will not be itchy.
We need a solid plan, because within this mall strategy are opportunities for efficiency. These efficiencies boil down to targeting the stores where we are most likely to get what we need so we can squeeze the most out of our time and resources. We can't just duck into every little shop to find out if they even sell white sweaters; it's time consuming. If we did, we would have to sift through lots of button downs and crop tops, only to run out of time and have to settle for a cream cardigan or an ecru turtleneck priced exorbitantly.
We decide our plan will be to go to an upscale department store with an attentive staff, knowing we will very likely be at a higher price point but get the precise, luxury sweater we want--relatively quickly. As I've said before, pick any two: cheap, fast, or good.
Reflect and Reassess
I absolutely could go further with this analogy. Perhaps next season we don't only go to the mall. Maybe we order a bunch of white sweaters from a variety of websites at different prices too, and then analyze the results.
The key point is, the way in which we reached our goal was sufficiently comparable and measurable. More importantly, taking the time to strategize offered the opportunity to maximize the resources the client had. Keep in mind, as tedious as the planning and strategic process can be, don't skip or rush through it. Mapping out different marketing scenarios now will pay off in the long run.