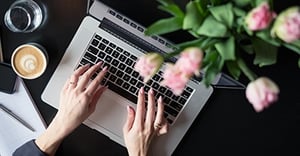 Last week, while doing my Thanksgiving shopping at Trader Joe's, I noticed a sign reading, "We are sorry we are closed Thanksgiving, but we will be open Friday, November 22." Do you see what I see? Thanksgiving Day was November 22; the following day when the store would reopen was November 23.
I mentioned it to the cashier, and her response was simply, "All those days blend together anyway." I guess… but in my mind I was thinking, "It matters!" For me, overlooking such a detail—at least repeatedly—would land me on the unemployment line.
And yet, something worked with that note. It got my attention. The messaging appealed to my emotions by starting with an apology. As an editor, I sometimes get so focused on creating copy for lead generation purposes that I don't step back and make sure it's appealing to my audience.
5 Strategies to Bring the Joy
The messaging appealed to my emotions by starting with an apology
As content marketing writers and editors, it's important to create effective content that generates awareness and efficiently guides prospects through the buyer's journey. It's also imperative to devise content that is engaging and overall enjoyable. Unfortunately (and more often than I'd like to admit), the information and material we have to work with isn't always the most fun to read.
So, how can we create more enjoyable content?
1) Understand your audience and address their pain points.
You'll never engage your audience unless you know what is of interest to them. B2B and B2C buyers previously had some clear-cut designations as to what they found valuable, but a recent Harvard Business Review article discussed how that divide has narrowed significantly.
The HBR article outlined a pyramid of "elements of value," with the foundation being objective wants such as price, scalability, and product quality. As the pyramid's point narrows, things like responsiveness, reduced anxiety, and even social responsibility were listed as desirable. So, it's important to position your brand in a way that addresses all the pain points and fulfills customers' needs.
2) Mix up your assets.
The demand for personalization in marketing isn't going away.
Consistency is good, but varying your types of content is an effective way to prevent your audience from becoming tired of your offerings. One of our clients made this move in 2018, switching from an exclusive editorial calendar of blogs to one with videos, slideshares, infographics, and webinars. Despite reducing the number of blogs published weekly by 50 percent, results showed pageviews increased by 15 percent and the average time on site increased by 10 percent from last year.
3) Optimize personalization and be human about it.
The demand for personalization in marketing isn't going away, making it a must in your content marketing strategy. Sometimes, marketers mistake personalization potential using data points as "enough." But, there needs to be a human aspect to it.
A study by Forrester (commissioned by Braze) found that when brands demonstrate a human side, people are likely to "be very satisfied" (47%), make a purchase (47%), recommend the brand (49%), and love it (37%). Brands that stand out hold the characteristics of responsive, social, friendly, thoughtful, helpful, personable, intelligent, honest, and reassuring. Humanity has to shine through the "machines," so focus on your brand's authentic voice, refrain from talking down to customers, and avoid the hard sell.
4) Keep consistency of quality and quantity.
It can be a challenge to produce enough content to be sufficient for your goals, but you don't want to just crank out a bunch of mediocre content to match up with an aggressive editorial schedule. One way to find the "sweet spot" is to look to your metrics and establish some benchmarks. That way you can see what sort of cadence works (or doesn't).
5) Take advantage of social sharing—and don't underestimate its power.
Even if you can't afford a social media strategist, simple adjustments can make a big difference
Social media is one of the newer kids on the block in terms of content marketing, and it's taken a while to figure out how to use it to its full potential. Even if you can't afford a social media strategist, simple adjustments can make a big difference. For example, the same client who revamped its content offerings also took a new approach to its social media game plan—sharpening focus and reworking the cadence and number of posts. Again, metrics are key in assessing trends.
Find the Silver Lining in All Clouds
I get it; to err is human. And while our goal is to always create error-free content that doesn't make a brand look sloppy, mistakes happen. In the Trader Joe's case, the error was forgiven by me because the messaging elicited a feeling of "we care about you."
I even decided to write them a little note of my own.
Dear Trader Joes,
No need to be sorry. It's Thanksgiving after all. I thought it was so nice of you to apologize in your brief note. And even though you got the date wrong regarding when you'll be open again, it's okay. I still love shopping here and will see you next week on my weekly grocery run.
Kindly,
Shina