Marketing objectives, strategies, and tactics—oh my!
This is always the first step in a discussion about marketing.
On "paper," not so confusing. In B-school, it was crystal clear. An "objective" was a quantitative metric: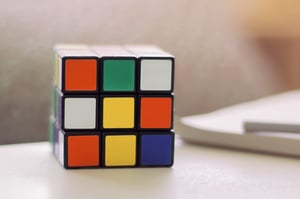 Increase new customers by 5%
Grow revenue in new markets by 10%
Increase website traffic by 15%
If the objective was the goal, a strategy was what needed to be accomplished to achieve it, and tactics constituted the "how."
Enter the real world.
What Is "Growth," Really?
When I work with EOS companies, they've already worked hard to define their business objectives. While there's traction in the business growth path, often the specific role of marketing gets muddied.
In one strategy session, the objective was declared as "Growth." Well, let's see how many interpretations we can come up with to define that objective.
An increase in topline revenue
An increase in unit sales
An increase in profit margin across a franchise
An increase in visitors to an ecommerce platform
Determine the Role of Marketing
We can't really define a marketing strategy as a driver for growth until we determine the role of marketing in a growth plan. For example:
Growing topline revenue can be achieved in a multitude of pathways. Some reside in the marketing organization, others in sales, and still others in finance. Your task is to decide which of these deserves the marketing resources to make it happen.
Focusing on one path, and doing it well, is better than dabbling in all of them, particularly if you have limited marketing dollars in your plan. For example, decide that the role of marketing is any one of these:
Increase the sales pipeline
Increase average order value per new customer
Upsell existing customers to a new product
Improve loyalty and frequency of purchase among first time customers
Then, drive marketing programs toward the one that makes the most sense in the nearterm.
Same Objective, Different Strategies
Let's presume you land on a marketing objective designed to increase unit sales. That objective can be supported by a number of different strategies and tactics:
Reduce pricing to compete more effectively in a crowded market.
Expand marketing into a new geography.
Bundle sales of different product offerings into a single package (it costs less to service a single new customer with multiple products than it does to support more customers with bite-sized offerings).
Growing topline revenue can be achieved in a multitude of pathways.
As you can see, depending on what the specific marketing objective is, there are different strategies (and therefore tactics) that relate to that goal.
Let's blow this out a bit more with the mother of all marketing objectives: increasing topline revenue.
Take a look…
Objective: Increase topline revenue.
Strategy Alternative #1: Increase your sales pipeline with high intent leads.
Tactical Options:

Acquire a list of your optimal prospects for a multi-touch email campaign. In each email, drive the recipient to an engagement asset (a checklist, a how-to instructional, a video webinar). Explore open rates to identify high-intent prospects to provide to your sales team.
Build awareness through organic content to publish on the personal LinkedIn page of a team leader. Engage via LinkedIn messenger to nurture interest in an additional piece of content available in exchange for an email address. Then, add these contacts to your weekly newsletter list for additional nurturing. Use LinkedIn messenger to nurture further in order to get a call scheduled.
Support your brand by publishing this content on your company page

for SEO value. But remember, LinkedIn doesn't support company pages with the same love as they do a personal LI profile.
Objective: Increase topline revenue.
Strategy Alternative #2 : Increase the number of new customers per year.
Tactical Options:

Offer educational seminars, complementary training, and DIY analysis tools that deliver value in advance of the purchase timeframe.
Test an entry level offering at a lower price point to onboard a broader set of new customers with a back-end upsell option.
Set up a referral program among your strongest customers.
Objective: Increase topline revenue.
Strategy Alternative #3 : Decrease churn of existing customers so new revenue remains truly incremental.
Tactical Options:

Make sure your CRM tags customers in your database in order to develop customer-specific content that rewards them for being part of your family.
Develop a partner program that offers a select portion of your existing customer base access to pricing promotions, first-in-line for new products, a dedicated account manager.
Create a customer-specific newsletter by repurposing LinkedIn content and case studies crafted with language that identifies this content as "for customers only."
Develop a component in your sales process that keeps you top of mind for your customers (e.g., monthly reporting, access to new content as a reason for an out-of-sequence sales check in call, etc.).
We've Got to Do the Work
Sometimes my clients think about this and groan. It's hard work to refine a marketing objective to this level of specificity. But if we don't, we're boiling the ocean. And we don't have the budget to do that.
Want to explore this topic a bit further? Here are some resources to help:
See our entire YouTube channel, Marketing Air-Cover, for additional guidance on marketing strategy for small business.
You can find more about the Marketing Strategy Lab for small businesses here.
Learn more about hiring a fractional CMO here.