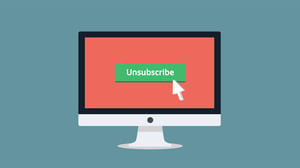 Email unsubscribes are okay--really.
Your email unsubscribe experience will influence how people feel about your brand.
Helping people unsubscribe from your emails will actually have a positive impact on your email deliverability and internet service provider reputation, the goodwill of your customers and prospects, the health of your email list, your bottom line, and more.
Here are some stress-free concepts to think about.
1) It's ok for them to leave.
Many brands do their best to prevent users from unsubscribing. Email marketing is the ultimate permission marketing. Respect that.
2) Talk to people who are actually listening.
"Email marketing is the ultimate permission marketing."
If people keep getting unwanted emails from you, your messages will start to work against you. Making it hard to unsubscribe reminds recipients of your bad behavior. It's a great way to turn customers away—for good.
3) Keep mobile in mind.
Make sure your mobile email footer is readable and the unsubscribe link is large enough to tap.
4) Have a separate "preferences management" link.
If you have multiple email offerings, add a second link in the footer that takes users to the page where they can manage their email preferences.
It's always difficult to see people actively choose not to hear from you, but email science has proven the benefit of unsubscribes. If you're staying consistent with the percentage of unsubscribes, it's a simple way to "self clean" your list. If you see a spike, it's time to reassess your messaging.