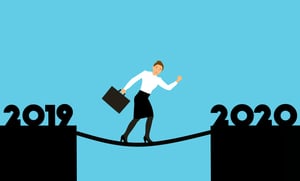 With Labor Day behind us and Q4 looming in the too-near future, we tend to say, "It's that time of year again." The time when companies take a sobering look back at the year-to-date and begin to think about the year-to-come.
Since I've spent my work-life believing in the power of marketing, this is the toughest season. Questions arise. Was it worth it to spend cash on paid channels? Was the organic awareness-generating effort worth the elbow grease? Do we have the right people-power in place to bring ideas into action, and action into results?

It's overwhelming to say the least. We know. We are there too.
Abandon Randomness
The luckiest among us have seen the leads pour in, but still struggle with the "lift." Others worry about capacity to handle the influx of opportunity—especially when minds drift to the slog of creating strategy for each of those opportunities, no matter how slight or how great.
This is the toughest season.
In the middle of all of it is the draw, the enticement to perform "random acts of marketing." These non-strategic acts feel good at the time. Action is good, right? Way better than being idle.
The thing is, it's not an idle vs. active argument. If you don't have an underlying strategy to inform and guide your marketing efforts, you're only wasting precious time and money.
Random acts of marketing need a home.
I know for some, "plan" is a four letter word. For me, there is just no other way. Random acts of marketing need a home, and a plan is that home.
Abandon randomness. Set the stage for 2020.