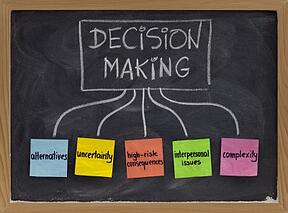 If you've ever stood in a supermarket aisle and stared at your options in any category - unscented, natural, with baking powder, for sports, for women, green - you know you're not alone as you look toward the heavens and pray: "Make this simpler, please!"
It's a key truth that we marketers often forget: Consumers are praying for simplicity; decision-making regarding products and services is often so complex it can actually get in the way of life!
Companies that simplify the decision process for their prospects have a real opportunity to impact sales.
Am I exaggerating? Let's see what the numbers say.
What do customers really want?
First, the science. On the Forbes CMO blog, we read an IBM Institute for Business Value study. The study reveals that, often, what marketers believe influences brand loyalty and purchase decision-making is different than what their customers are saying.
Marketers: engagement
Customers: simplicity in the decision making process
The Corporate Executive Board (CEB) published an article in the Harvard Business Review on a marketing concept called Decision Simplicity.
The basic finding? If a company can help prospects decide more quickly, with more certainty, it will ultimately be the beneficiary of such efforts.
How to simplify the customer buying process
Let's see how this can work in a growing or mid-market business.
First, your company needs to understand the buying process for its product or service and respond to your customer's need for information, corresponding to different points on the buyer journey.
Next, ask: what are the important variables that customers consider at each point in their decision time line?
At each step, there needs to be:
sources that establish or reinforce trust, product information that is streamlined and relevant, and tools for comparing choices and weighing the options

Finally: simplify communication, keeping the context in mind
Let's take a look at what this looks like, across marketing tactics:
Social Media
The CEB found that "decision simplicity" is not only a key driver of brand choice, but it's also a strategy for getting consumers to engage in social media.
Keep content and social messages concise and precise. After all, confusion isn't a healthy business strategy. Ignore at your peril -- increasingly we see this: "Too long, didn't read" (TLDR!)
Content Marketing
Content presents an interesting conundrum.
For some content, concise is best. For instance, with case studies: think about the prospect's time limitations and be realistic about what we offer her in those few free moments.
On the other hand, statistics show that longer, authoritative blog posts of over 1000 words are often read and shared. What's going on?
Simply this: Give the buyer the information they are looking for at each stage of the buying cycle, no more, no less. Those long blog posts do fine when they answer buyer questions. Thoroughness builds trust. When viewed through the lens of buying stages, an appropriate level of detail makes sense.
Bottom line: create content that's as long as it needs to be ... and no longer!
Marketing Messaging
Marketing programs may easily fall victim to the "TMI" disease. Companies often include the kitchen sink in a mistaken attempt to cover all bases, rather than focused, strategic messaging.
Businesses who fall prey to the "kitchen sink" ailment believe that everything is important to prospects. The reality is, the buyer knows his or her pain point. Do you?
For some buyers, time frame/speed of delivery may be the most important matter. Other consumers might be budget conscious, or depend on reviews and ratings to help guide their decision. Perhaps a specific feature closes the deal. Helping the prospect find exactly what they are looking for, quickly and easily, is key.
Here's a gut check for your own business. Take a look at your website home page, or even your latest sales brochure. "Can any prospect find the answer to any question? That's overkill. F-O-C-U-S. Usually, less is more.
Get more leads: simplify the decision and grow sales
When we invest time and effort in getting to know the key decision-making triggers for your buyer, it pays off. Helping to curtail the 'noise' and emphasize what matters most. We did this for MAZE Laboratories, and sales grew 118 percent. To learn more, read the case study here.
I just love this "simplify" research because it humbles us; it makes us take a second look at our buzz words and newfangled tactics and brings us back to the most basic, yet all-important question:
What do our consumers want?
To help, not hinder, the buying process for our current and future customers ... keep it simple
How do you clarify customer needs and simplify the buying process? Leave a note in the comments!
Need help moving prospects through the sales funnel? Schedule Your FREE Whiteboard Consultation today!