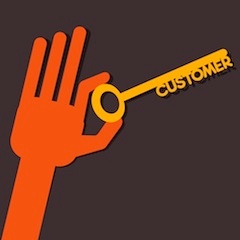 My subscription is nearly up at one of my favorite magazines, Real Simple.
As part of the reminder for me to renew at a significant savings vs. the newsstand price, they include a big blue burst that says, "Thanks for your loyalty!"
Really?
Does Real Simple magazine believe I will renew because I am loyal to Real Simple magazine? Do they really believe I will subscribe because I feel loyalty to the editors, the publishers, the writers?

Maybe I'm being picky here, but I saw this and here's what I thought: "I am not loyal. I am satisfied. I love the content, I love the way my 15-year-old cuts out quick-dinner recipes she wants to try, I love the human stories, the acknowledgement of my busy life, the understanding about what matters to me.
In short, the editors solidly meet my expectations. When talking about customer loyalty, the bar should be a bit higher, shouldn't it?
After all, the holy grail isn't just satisfaction. Truly passionate fans don't just love you...they wear their hearts on their sleeve, and tell others about you, too.
Customer Loyalty: 3 Data Points
So I did some web research on loyalty. Here are three data points:
Sports Teams: Stories of long suffering sports fans are legend. The Cubs went over a century without a championship. But to the Cubs fan -- the basis of the term loyalty is a historical, visceral, emotional connection.
Loyalty Programs: These tools are devised to keep us focused on our favorite brands, airlines, credit cards. Well, I'm just as inclined to stick with my Amex card as the next guy, because we did manage to get to London last year as a family on miles, but miles alone do not suffice as the sticky stuff of customer loyalty.
Annual CLEI Survey of Brand Loyalty: A couple years ago, mobile phone technology, ridesharing apps, and athletic gear led the list in passionate fans. In every category, there are brands that differentiate themselves vs. competition and earn passionate fans.
From Awareness, to Advocacy
Entrepreneur Magazine posted an entry on customer loyalty that lists what we might think of as the usual suspects in the lineup of loyalty builders: strong customer service, personalize, interact, avoid crashing the party with uninvited communications, and everyone's all-time favorite, harrassingly frequent emailing.
Here's what I believe: loyalty is not a gift. It has to be earned by offering something either specific to the product or service (like a coupon or a product improvement), or, by offering something that has nothing to do with the product, like engagement (remember the ALS ICE Bucket Challenge?).
The Entrepreneur article references Starbucks' mystarbucksidea.com which allows registered visitors to suggest and vote on product and service ideas. In between the whiney complaints are some really great ideas, and smart insights into how to reward their customers, in store and out. This works in two ways: posters are invested, and voyeurs are intrigued by a brand that generates so much free advice.
But true customer engagement, from a marketer's standpoint, goes beyond this. When Starbucks customers go online and post a suggestion, that's good. When they tell all their friends how amazing the caramel macchiato is, it has the potential to impact sales and the bottom line more than the slickest marketing ever could.
What about loyalty for your brand?
At the risk of sounding like a self help article in
Real Simple,
I would argue that there are a few crucial components to building customer loyalty. You can hire a lot of great companies who can set up points programs and membership clubs; but before anything, there's religion:
- Authenticity. Looking beyond the tip of one's own nose to the other person in the room, and responding to them with honesty and energy: this sells. There's so much garbage to wade through in the world, and people in the buyer's seat tend to respond well to authenticity on the other end. Humanize your interactions, and you may well have a customer for life.
- Delight: Customers choose your brand and rely on it for a discrete set of benefits and a determined price point. When the opportunity arises to contribute something your audience did not expect, loyalty skyrockets. My point is: do something to surprise your customers and exceed their expectations. You'll be making an emotional connection, and build a shorter road to happier, more loyal customers if you do.
Responsiveness: Today's web provides and unprecedented window into the hearts and minds of our customers. If you screw up, there's likely to be a letter, a tweet, or an online review somewhere. The beauty of it is that you have an unparalleled opportunity to make it right. Listen and respond, and you will have restored their belief in your brand.
Though this seems more like religion than marketing, companies and practices that align themselves with a set of values and live by those values have a powerful ability to attract like-minded prospects, and hold on to them for a good long time.
Truth is, we humans are creatures of habit. We don't actually want to switch from brands that make us happy; as consumers, we want to be satisfied by them over and over again.
If you keep that in mind, it's a good place to start.
How does your customer experience measure up? Questions? Schedule Your FREE Whiteboard Consultation
today!