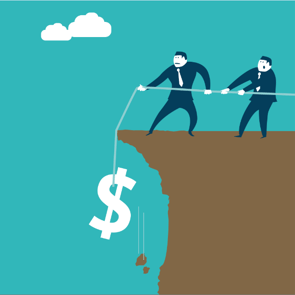 Clients often ask us if the cost of building and maintaining a social media presence is "worth it."

If you don't feel your manufacturing company that makes steel bolts needs a Facebook page, you'd get a lot of support in these quarters.

But with social media fully integrated into our daily lives and the amount of time spent online growing unabated, your customers are increasingly engaged in social media. All the more reason to dig deeper for the social media strategies that will pay you back.

Even the most niche company can find their place on the social web. And with the right strategy and measurement tools in place, it's even possible to use "Social Media" and ROI in the same sentence.

Social media: Is it worth it?
It's a fair question. Smaller and mid-sized companies -- all companies for that matter -- have limited resources. We need clarity on every tactic in the marketing mix -- specifically, its role in achieving business goals, and the ability to measure whether we are achieving results profitably.
To attract actual, living, breathing customers via social networks is one thing ... to create measureable results tied to your investment, or ROI, is another. For this, two things need to be in place: clear social media marketing goals and a commitment to measure results.
Begin with clear social media marketing goals
Here are three of our favorite business reasons to build business relationships and visibility on the social web:

1- Our first and favorite reason for using social media to market your products or services is to be found.

It should come as no surprise that social search is alive and well. The deeper your relationships on the social web, and the more that your content is shared, the stronger the search signal that Google receives.
To get the biggest bang for the Google search buck, you need to start with a content strategy that, at its center, addresses customer needs instead of product features. Then you'll need a social media strategy to help that content get seen and shared between all of your adoring followers.
In this regard, when we think of social networking, most of us automatically think Facebook, Twitter, LinkedIn, Instagram, YouTube, or Pinterest. But many vertical industries have their own niche social networks within which colleagues, customers, and even the media are lurking.

A great example of this is how client Conservatory Craftsmen used the niche social network Houzz as part of their inbound marketing strategy, boosting quality leads +35 percent (read the case study).
2- Next: Social media is a great place to learn about potential customers, patients, and clients by looking at your social network, and that of your competition.

We've seen this one pay back over and over. There's no better (or cheaper) source of business intelligence and insight. Blogs, social networking sites, wikis, communities, forums and emails, if mined, can provide an endless source of fresh insights into how consumers respond to products, services, brands, and overall company experience.

For a while now, companies have been using social listening tools to uncover market trends and customer sentiments that can help generate relevant and meaningful marketing programs and tactics.

It's easy to use social media as a market research proxy to learn about customers: what drives them to look for a solution, the influences on loyalty and purchase frequency. By comparison, Attitude and Usage studies take months to complete, a time frame that seems virtually useless as we run around making decisions, shifting gears, responding and anticipating at a frenetic pace.

3- Finally, the use of social media for lead generation.

For B2B lead generation, you need understand how the typical buyer's process: first, they search online for information and resources to solve a business problem; then, they narrow down their list of potential solution providers, and reach out when they get close to a decision to enter a sales process.
Social media can play a key role in both the discover and trust building stages of this process. When you are easily found by virtue of a visible and active presence, engaging in information sharing and networking week in and week out, ultimately, new prospects -- leads -- will become aware and interested.
And with the ability to nurture early signs of interest efficiently and profitably, typically with a marketing automation toolkit, those leads convert to sales.
To maximize social media benefits: track and optimize
How to measure the business impact of your company's activity on the social web?
For the best results, you need to have good measurement tools in place. And while SMB's and mid-market companies are not in a position to use some fancy enterprise analytics, that's OK ... because all the major social platforms offer easy to use and robust analytics tools to analyze and measure social engagement and impact.
Many of these proprietary tools are free, and a virtual cottage industry has sprung up around additional low and no-cost apps that help to optimize your company's social media presence, such as Google Analytics, social media apps like Tailwind, and marketing automation software like Hubspot.

Bottom line: social media results, and the ROI to prove it
When it comes to ROI, the theory is fairly simple: The execution is a bit more complex. That's because people are influenced by many different online interactions, but we typically track the last online "touch."
With the right tools in place to measure and track, we can attribute social media to downstream lead generation and sales. And by attaching a dollar figure to results generated, compared to the investment to achieve those results, we can understand ROI. For most businesses, that's the bottom line.
What's your experience with building a social media presence? Do you measure how your company's social media investment is paying out? Let us know in the comments.
If you'd like a review of how your social media strategy fits into your company's bigger picture growth goals, s
chedule a Whiteboard Consultation today!