Is a centralized or decentralized marketing organization best for your growing business?
The growing-pains analogy in a recent Martech piece on centralized vs. decentralized marketing organizations is familiar to many of us working with growth companies.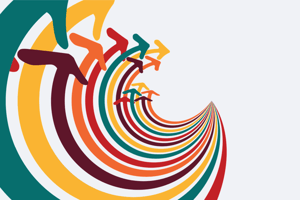 I've been around long enough to see this pendulum swing back… and forth.
From the efficiencies of a centralized system, to the nimbleness of decentralization, a weathervane of approaches is dependent on an individual business' path to success.
The question is: What's best for your growing business?
Centralization in the Spotlight
There is a point on the growth curve of a company where a centralized approach feels right.

With a CEO's vision, her allocation of resources to talent and tech, her responsibility to stakeholders and shareholders, decentralization can cause inefficiencies at best—and disjointed performance at worst.

Centralized strategic decision-making and planning may provide freedom at the executional level.

Everyone is aligned on goals and the metrics to measure performance. No one is siloed where vertical successes can be

misinterpreted as global

ones. After all, you wouldn't applaud a high click-through rate on an advertising campaign if it didn't feed a business KPI connected to growth.


More benefits include:
Improved cost and efficiency. Centralization minimizes duplication of efforts.
Optimized customer experience. Avoid inundating customers/prospects with too much communication.
Better talent development. In a centralized structure, cross-team collaboration ensures that everyone is continually growing and improving.
More insights from marketing performance. From benchmarks to reporting, all team players are on the same page.
A more consistent brand. The left hand always knows what the right is doing, and vice versa. There's minimal risk that customers/prospects will receive dissonant messaging.
Given all this, I'd have to argue for centralization!
Decentralization's Downfalls
Where does it pay to decentralize?
The centralize-to-decentralize argument takes shape as a business grows, interpreted differently depending on business size, financial health, and the breadth of growth goals within a single company.
In marketing implementation, the effectiveness of specialists and experts in executing is unmatched. There's no comparing deep intelligence and experience in a specific channel to a one-woman (or man) show when it comes to operational excellence.
I see the flaws in decentralization every day.
In my work as a CMO, however, I see the flaws in decentralization every day. It's like watching a three-ring circus at times. You're not quite sure what to watch, which deserves more attention, and how they all work together.
Decentralization is great at the implementation phase of any marketing program. Get the experts in where you need them.
But don't rely on specialists to define your growth strategy across channels. A channel agnostic view is best for determining resource allocation. Once you're set on the right channels for your specific KPIs, then it's time to bring the specialists in to do their magic.
Building a growth strategy with a centralized, cross-functional team of leaders makes the most sense. Executing against that strategy with experts and specialists gets the job done.
Need Some Guidance?
If you're currently taking a centralized approach but not seeing the results you expected from your team's marketing efforts, there might be some gaps in your strategy. Don't let them get any wider! Here's how I can help identify what's thwarting effectiveness and/or efficiency: