Here's the scenario. You're a CEO of a small business, and you know you need to kickstart your marketing efforts. You have a small team that consists of a full-time marketing generalist, whose job mostly consists of working with the myriad agencies you've hired: PPC, SEO, digital marketing, PR, and content creation.
You've got it all.
The marketing plates are in the air, and they're spinning—some faster than others. The problem is that there's no one there at a strategic level to make sure it's all, well, okay.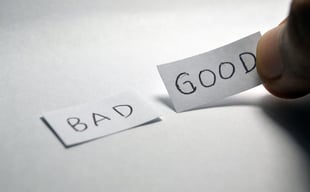 Your external agencies are coming in, one by one, and asking you what you think about this strategy, going after this audience, and doubling down on this campaign. And you say everything sounds good—because all of it truly does. There's just one problem: All of this "everything" doesn't quite align with the growth path you've laid out for the organization.
What you're looking for is the right combination of strategies—within your budget, of course—to get you to those growth goals over the next 12-18 months. It might be tempting at this moment, especially if you have a tiny team in place or don't have any marketing team at all besides a group of outsourced experts, to uplevel your marketing and hire a CMO.

You feel like your marketing needs to "grow up" a bit, flex some strategic muscles, and connect itself to organizational goals. If you had that full-time, salaried leadership position at the helm, it would all make sense.

With much respect, I'm going to ask you to pump the brakes—at least for the time being. Here's why.
The Role of Marketing—And the CMO—Is Going Through a Big-Time Shift
The more diverse marketing becomes, the more strategic it needs to be to earn its keep. It has to pay itself back based on your business strategy. And that's what's been happening over the past decade, as marketing has moved to shed its "just a cost center" reputation once and for all.
As marketing has become more focused on the long game, the role of the Chief Marketing Officer has changed significantly over the past decade. Gone are the days when CMOs were only in charge of marketing. Today, marketing touches everything—and CMOs are being tasked with managing the entire customer journey, understanding data and analytics just as well as the business intelligence team, driving revenue right along with sales, and leading positioning and messaging work for HR and product teams as well as diversity, equity, and inclusion efforts.
We have more data about our customers than ever before. We see the actions they take through our automation tools. We see their behaviors and needs changing more quickly than ever before—and it's become marketing's responsibility for understanding those needs better than anyone else.

With that, CMOs are thinking more long-term—striking a balance between finding and keeping lifetime customers for their brands at the same time they're looking to meet near-term transactional goals, like getting the sales team those qualified leads.
Having a CMO ≠ Marketing Output
If you spend all of your marketing budget on hiring a talented CMO, and you don't have any money left to create the assets, pay for the media, and create all the elements of those customer journeys you want to execute, what's the point? There's no way to be nimble if there's no one to execute the work.
I'm going to ask you to pump the brakes—at least for now.
On the other hand, CMOs shouldn't be implementing the marketing output, either. If implementation work is what you need, hiring a different set of marketing team members will accomplish that goal. This gets back to the problem at the beginning of this piece: What if you don't actually feel safe recommending which marketing channels can reach your desired audience, and with the right investment mix?
So, you may not need a full-time, salaried CMO right away. However, it might be worth it to entertain a part-time or fractional CMO for air-cover with your in-house and outsourced teams, especially if you find yourself in these scenarios…
1) Your needs are acute and specific
In a perfect world, you'd snap your fingers and have a complete marketing strategy that's perfect for your company—PR and communications, content, digital, events, demand generation, and product marketing.

But, you don't need that right now. You need a single thing, today, to move your marketing forward. It might be more leads or a way to get prospects to respond to outbound emails. You don't have an overarching plan that's been mapped to a specific growth strategy, or a specific product or service that's been identified as having the most promise to deliver revenue, but you still need a plan.
If this "one thing" is what you need to concentrate on the most, hiring a CMO and paying them a C-level salary may not be the best use of your budget.
2) You need someone to help identify market (and marketing) transitions
A company that's been in business for 20 years is going to have different marketing needs than a start-up in the middle of raising its first round of funding. You need someone at the C-Suite level who can identify these moments of transition and how they'll affect the product or service you offer—whether those transitions are of your own creation, or if they're ones that are happening externally due to shifting generational behaviors or changing social and economic conditions.
For example, if you're a company whose business is driven by active, organic search, then your Google rank has always been paramount. Consider your audience, however. Are you prepared to handle the rise of Gen Z's favorite search engine: TikTok?
You may not need a full-time, salaried CMO right away.
It's also about identifying the transitions that exist within your own marketing engine. When I was hired as the fractional CMO at a marketing services company two years ago, the immediate goal was to repair its inbound lead engine. In those two years, we've increased lead flow by 300% and our lead funnel is firmly in place.

Although leads are still important, the work we put in for those two years means we're able to transition to other high-value activities, such as honing the organization's messaging and implementing a referral strategy. This kind of reputation management work is a long play, but it's also a strategy aligned with the growth they want for the next stage of their business.
3) You need marketing to integrate with profitability
Marketing is more than a cost center, but we're still a cost center. It's a big reason why CFOs have a natural dislike for the annual marketing budgeting meeting. So first things first: Map your recommended investment to where you know—or have data to support—that it's going to be enough to make a measurable impact.

Here's an example: If you're running a luxury brand with a discerning ideal customer profile, you wouldn't want to invest in a broad-reach channel like paid search. Sure, while PPC works fast to generate site visits, your expensive search terms may not "speak" to this audience. The increased traffic might make you feel good, but there won't be enough conversions to those luxury purchases to make it worth your while. Investing resources to compete with the entire world won't yield profitable results.

On the other hand, if you're in a competitive B2B where there's a heavy emphasis on awareness-building and education, reaching a wider audience might be your first order of business, especially if you're at the outset of a broad marketing initiative and you're in need of sales feedback to identify your best prospects.

Consider the cost and ROI implications of these costs—and the role of return on investment in measuring success.
4) You need someone to assess your talent
Independent—but connected—to understanding the right marketing actions your organization should take is to also have someone help you make sense of the marketing talent you have, and what you might need in the future. If your Marketing Director is a data expert, but you need a content strategist because you're looking to ramp up a brand awareness campaign, how will you as a CEO know to fill that gap?
Yes, it is okay to not have a CMO on your masthead.
It's the same on the other side of the equation: If you have a team of content writers and none of them understand Google Analytics and can see how their web content is performing, there are some clear needs around marketing data.
A C-Suite leader can help you determine if you can use temporary talent to fill your gaps, which might lead to hiring contractors and other talent so your fractional marketing leader has tools to work with.
Fractional CMO Fears, Allayed
I've heard a few concerns around hiring part-time or fractional CMOs that I'd like to put to rest here:


Yes, it is okay to not have a CMO on your masthead. In the B2B space, there are several company roles that influence a buyer: the CEO's reputation, the deep expertise of your tech leader, or a customer success leader who's focused on delivering on the needs of a client's business. Sales and marketing leaders serve you—not necessarily your clients' success.
Yes, a fractional CMO will give you the time you need. What might take a marketing manager three weeks, an experienced CMO can accomplish in three days. So, it might take less time than you think to get what you need. The clearer you can be as the company leader about your goals and what specifically you want that person to accomplish—and how much budget you have for them to accomplish it—the more efficient a CMO can be.
No, you don't need to know exactly what you need, but you do need an idea of where marketing will work best for your business. Let's be real: Every business, at some point, will need every aspect of marketing—but it doesn't all fit into your P&L right away. Instead, think about where marketing will pack the most punch in your business, whether it's a specific audience, product or service, or another factor.

As long as you have people on your team—or outsourced resources—to actually execute the work, you may not need a full-time CMO. What you might need, however, is the brain of an experienced, growth-focused fractional resource to keep those marketing plates strategically spinning.




See our YouTube channel, Marketing Air-Cover, for additional guidance on marketing strategy for small businesses.

Learn more about hiring a fractional CMO here.