You've likely heard of FOMO (Fear of Missing Out), but have you met its close cousin, FOBO--Fear Of Better Options? It's so prevalent in marketing, that we made it our own hashtag! #FOBO
Here's the deal: When it comes to crafting a marketing strategy and plan, options abound. We'll often make choices based on: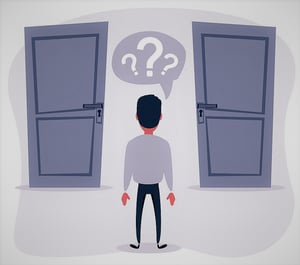 What the competition is doing
Who has been recommended
What we've read last in the business press
What on the biz dev "to-do" list is the longest
The options start to blur into one muddled orb of uncertainty. Just like the Sham 69 song goes, "Everybody's right and everybody's wrong."
What If You Develop a Channel Agnostic View of These Decisions?
Often, the logic around marketing decisions (and thus budget drivers) is very linear; a real if-then construct:
If I need more new leads, I need to fish in a larger pond. I can do this by running advertising.
If the website copy isn't optimized for search, we'll revamp the site content, meta descriptions, and page titles. Then we'll get found when people search.
Since lots of prospects will show up at conferences, virtual or otherwise; I'm signed up.
When you ask the question, "Is [insert tactic here] the right place to allocate resources?" the answer might always be "yes." There's always a way to see the value of any approach…
A brand refresh can *always* help deliver your value. Paid advertising will *always* broaden your reach. Inbound will *always* help you attract middle of the funnel prospects.
But, that doesn't help you make a decision, does it?
3 Questions to Cut FOBO Off at the Pass
Taking action feels good. Research points to the benefits of crossing things off your list. And, we totally support forward progress in the Marketing Strategy Lab. But first, we step back and ask the following questions:
"There is a strategic order to building business."
What do you own already that can be supported with marketing? Lead gen assets? On-site engagement opportunities? Lots of relevant content?
What's your tolerance for time when it comes to growth? Some channels and initiatives take longer to seed than others.
There is a strategic order to building business. How can you focus on a specific audience to make the most impact against your growth goals?
Let's see if we can identify the best option for your most urgent business goals before FOBO slows down the whole process.
Removing FOBO Starts By Looking Within
One of the core foundational elements of the Marketing Strategy Lab is that we start by framing success by looking inside first; outside later. Then, we help get up the courage to focus on doing a few things well so we don't spread resources too thin to make a difference anywhere.
Once we've done that, it's easier to formulate a set of options that make the most sense for growth.
Is your Fear of Better Options getting in the way of your company's success? Check out this 18-minute mini-training, where we look at FOBO and how to remove it from your approach to strategy-building.