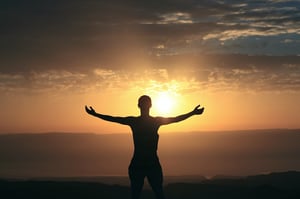 I confess: I've been reading Brené Brown on gratitude.
To give a little background, Dr. Brene Brown is a research professor at the University of Houston where she holds the Huffington Foundation–Brené Brown Endowed Chair at the Graduate College of Social Work. Per her bio, "She has spent the past 16 years studying courage, vulnerability, shame, and empathy and is the author of five New York Times bestsellers. Her TED talk—The Power of Vulnerability—is one of the top five most-viewed TED talks in the world, with more than thirty-five million views."
Impressive, to say the least. What I've found is that Brene's thoughts on gratitude are particularly intriguing.
Why Gratitude, Specifically?
Brene's own research surrounding the practice of gratitude supports additional research across the country.

Dr. Brown's thoughts on gratitude are particularly intriguing.
Harvard Medical School recently updated an article originally published in 2011 around the power of gratitude in improving happiness and overall well-being. Studies from HMS, University of California Davis, University of Miami, and University of Pennsylvania provided proof cases for a gratitude practice across age and life stage cohorts.
Here are some summary conclusions:
Gratitude helps people feel more positive emotions, relish good experiences, improve their health, deal with adversity, and build strong relationships.
Managers who say "thank you" find that those employees feel motivated to work harder.
Retroactively thanking someone you may feel was never properly thanked yielded a "huge increase in happiness scores" with an impact greater than other tactics, with long lasting benefits.
While gratitude practice isn't a panacea for everyone, the findings suggested that the success of such a practice is associated with emotional maturity—something that you can further use to find gratitude in every individual and every situation, even the ones that challenge you.
Simple Acts of Gratitude
Practicing gratitude doesn't have to be complicated. You don't have to train as a monk or a mindfulness expert. Even small steps like these gets you some of the good stuff:
Write a thank-you note
Thank someone mentally
Verbally acknowledge another's helpfulness
Keep a gratitude journal
Be mindful of your complaints (both outward and self-inflicted)
Count your blessings
Volunteer or "pay it forward"
Pray
Meditate
The key is thinking of gratitude like a muscle. "The more you use it, the stronger it grows, and the more power you have to use it on your behalf," says inspirational author Alan Cohen. "If you do not practice gratefulness, its benefaction will go unnoticed, and your capacity to draw on its gifts will be diminished."
The key is thinking of gratitude like a muscle.
As we go into the July 4th holiday weekend, it's a perfect time to start practicing. Whether you're thankful for the patriotism behind the holiday, having a little "time off," the family or friends you'll be celebrating with, or the (hopefully) beautiful weather, just know that working your gratitude muscle comes in all forms.