The importance of being nimble in business growth investments activities cannot be overstated. But "nimble" often suggests cut-and-paste solutions that don't take strategic thought or planning smarts. Not so.
Nimbleness is especially essential now, as many companies face challenges of rising inflation and an impending recession—not to mention the enduring supply chain delays and manufacturing issues.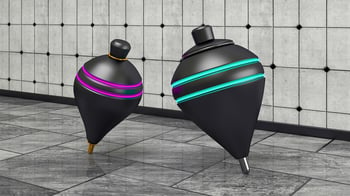 In marketing, I get a lot of questions about "what," but fewer questions about "where." Where you invest can be nearly as important as what you spend it on. Seriously. We spend hours and hours in approval processes, nuances around language, drill down on image resolution….it's not that these things aren't important, or that it's ok to be lazy about the details.
It's simply that the best creative, the most insightful strategies, the most compelling value props only matter if they're consumed where your audience lives day after day.
Marketing is a hungry beast, and feeding the beast takes time and investment. Let's see how we can install some nimble processes that will extend your investment across channels, and up-level the efficiency of your spend.
Here are four questions to consider as you aim to create marketing that helps you manage changing conditions where you're forced to respond quickly.
1) How Far in Advance Do You Have to Commit?
Back when I worked on print advertising campaigns, we were always thinking about lead time. Most publications required media buy commitments months in advance. In addition to media commitments, there were costs for photographers, models, wardrobe, and design. All of that cost was defined so far in advance that an investment could not be pulled back. The brand had to be fully committed to the publication, the message, the creative.
Even today, we experience similar in-advance resource allocation in some channels, like video production, trade sponsorship obligations, even research-intensive content and tech demos. And again, you're planning months and months ahead of time.
That's not nimble.
While professional video has been usurped by TikTok, Instagram, and less expensive virtual conferences that allow for more flexibility, these still require much advance planning and investment, and pose up-front obligations that demand resources in time and money.
2) Which Channels Can You "Turn Off" More Easily than Others?
The advantage of digital channels is that there are many that can work like a spigot: you can turn them on and off quickly and easily. But, among those with such flexibility, there are still risks that go beyond a simple on-off switch.
PPC is a channel you can turn off at the drop of a hat. You can do that, but should you?
While seemingly uber-flexible, it can take a PPC campaign six months to fully optimize; to allow search engines to warm up to essential keywords, and operate efficiently.
Pulling the plug too early means you haven't really realized the benefit of the channel at all; you haven't given it a chance to deliver the real value that the investment intended.
Even after running a paid search campaign for months, so that your ads are recognized and your share of search volume is right on the money, walking away—in full or in part—undermines the investment you've already made.
That's not nimble.
Let's say you're eight months into a campaign and your campaigns are delivering. If your P&L requires some relief, please account for the reality of what a reduction in spend will mean for your results. Reducing spend—even a partial reduction—can mean losing share of search volume, reducing dayparts when your ads will be shown, or even giving up branded search activity to a competitor who is using your keywords. A broad-sweeping reduction can nullify all the investment you've made to date, and a partial pull-back will have an impact on the power of your campaign.
So, even though there are some channels where you can turn the spigot off quickly, there's waste that accrues over time based on the investment you've already made.
While this can feel like a real trap, this is where having hard data on what is delivering the strongest ROAS against your goals can help you decide where cuts will do the least damage.
This friction is what creates resistance to marketing investment. I understand the struggle. The best way to plan paid spending in advance during uncertain economic times is to face the realities, and leverage those channels where spending today won't be unspun down the road.
3) Where Can You Invest Once and Generate Long-Term Results?
"Build once, use often" is a practice that helps extend marketing expense over time and channels. When you invest in a robust piece of content, written by a knowledgeable, experienced writer, you can adapt and repurpose for blogs, site content, newsletter, video scripts, and email marketing.
Now you have something that you can draw from. You're reaping the benefits over time with no incremental expenditure.
Another step with exponential value over time is allocating resources to optimize your website for SEO. There is cost in making sure you have the right number of pages, keywords, content, links. But, as long as you continue to add new, relevant content, those initial SEO efforts will continue to work for you, week over week.
4) Can You Be More Creative with Staffing Your Business?
Running a business requires support; there's no getting around that. But, one question to ask yourself would be: Do you need full-time staff to accomplish your business goals? This is especially important when you're not 100% certain what coverage you need internally.
The "gig" economy is an active resource to tap into. You might hire a freelance strategist to come in, work with you to create a marketing plan, set that plan in motion, and then be done. Or, enlist the help of a creative team to develop assets—or, as mentioned above, an SEO expert. Investing in outsourced talent also avoids costs like unemployment or benefits.
However, it's still important to find talent that understands your company's specific vision and can actually align their contributions with that vision.
Smart Marketing Spending
These four areas apply in financially challenging times, for sure. But, they're also good to assess in financially fruitful times as well. Just because you might have the money to spend, doesn't necessarily mean you should spend it.
If you'd like more information about smart marketing investment, here are some resources to help:
See our entire YouTube channel, Marketing Air-Cover, for additional guidance on marketing strategy for small business.
You can find more about the Marketing Strategy Lab for small businesses here or a copy of the overview here.