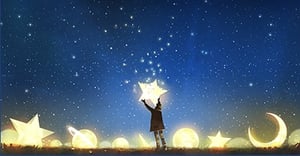 Do you ever get that feeling, that intuition, which then becomes validated? My response is usually, "I knew it!" as I high-five myself (or the nearest of my two kitties) for trusting my gut.
I've been getting little affirmations here and there after recently attending a handful of free webinars on content marketing, branding, and the importance of collaboration—specifically in terms of the effort everyone here at White Space has contributed to our refreshed value prop: Let's do more, together.
Here are some of the most insightful nuggets that backed up our months of value prop cultivation.
The Proof
is
the Pudding
Building the renewed WSMG value prop was a lengthy process. We spent hours brainstorming, created company personas and "player" personas (decision maker, buyer, user), and went through many renditions of potential website copy. I even gave a 20-minute dissertation to my colleagues on the origin and mechanics of a tandem bicycle because it played into how we want to collaborate with our clients (more on that in a bit).
We had to flesh out our proof to know that we could deliver on our promise
We invested all that time and effort because of what the "What Makes a Great Experience Brand" webinar (sponsored by AdAge) proposed successful branding is grounded in: proof and promise. We had to flesh out our proof to know that we could deliver on our promise to current and prospective clients.
One of the most impactful points from the webinar is that brand proof is a stronger indicator of brand health than brand promise. It's the foundation, and all the groundwork we laid ensures that we will not compromise our brand integrity by letting our clients down.
War and Peace: A Lesson in Collaboration
The second webinar was a nice complement to the first because it emphasized the crucial element of collaboration—which is the very essence of our value prop's "togetherness." There were two quotes that really hit home with me. The first, "If a team comes in and says they have all the answers, they're lying." One of the reasons we created our company and player personas was so we could understand the client's perspective, but that doesn't give us all the information. It's just as much our responsibility to go into a client relationship fully open to learning more about their struggles, goals, and vision for success, as it is for them to be open to our expertise.
The second quote, "The people we do it [marketing] with are often more important than the people we do it for [customer/client] because we're aligned on purpose." This can be both internally (we have mad collaborative skills among each and every WSMG team member), as well as in regard to client collaboration. Again, all of our value prop labor prepared us to establish and align on purpose so we and our clients are working toward the same common goals.
Empathy is the Counterintuitive Secret to Success (in Marketing, Biz, and Life)
Empathy bridges the gap between company expectations and customer expectations
The third webinar focused on content marketing, but what I loved about it was that it didn't take the same, tired approach of "how to do it better." In fact the first statement made was startlingly bold: Marketing has a marketing problem.
The answer? Empathy. Talking about how great your company is isn't matching up with what customers/clients want from you. Empathy bridges the gap between company expectations and customer expectations (and even colleague expectations).
One of the case study examples illustrated the Cleveland Clinic's revamp of their mission statement from a "We're the best in XYZ" to a much more patient-centric approach; an empathetic approach. The hospital's mission became "To improve people's lives whether you could become a patient of ours or not" and they modified online content and other marketing materials to feature real patient stories. The result was a dramatic increase in traffic and realized revenue.
Again, this was another one of those "aha, yes!" moments for me, knowing everything leading up to our newly established value prop puts our clients first. What do you need? What can we help you do? Let's do it, together.