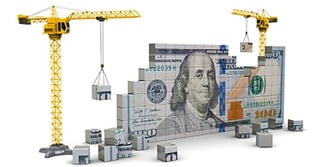 Over the years servicing clients large and small, we've come to realize that developing a marketing plan often requires a balance between competing tensions: efficiency and creativity, personal service and scale, small details and big ideas. When it comes to putting a plan to paper, often the budget governs all, and the balance is off-kilter.
When businesses consider marketing software or platforms, it's often driven by the growing need to effectively engage prospects and customers. These platforms also take a leading role in defining your organizational structure including how to implement the marketing function, and how people and departments can cohesively work together. Marketing platforms are a significant expense, making it critical to align your marketing and corporate objectives, while maintaining a vision as to how it will benefit your company.
THE DMZ for Marketing and Sales
Despite the natural resistance for marketing and sales to work together, an all-in-one platform that houses marketing content, lead nurturing follow up, and metrics visible by everyone can diffuse these tensions. While salespeople love CRMs (or in some cases, love to hate it), the ability for your sales team to see your marketing at work with their qualified leads is a salve. Platforms that integrate marketing automation with practical sales follow up can be a win-win for both parties.
An Analyst's Definition of Heaven
As data from web visits aggregates, there are implications for the next round of marketing planning. By understanding where the weak links lie in your tactics, you will be able to shift to new planning strategies or tactics. As my grandma said, if it hurts when you hit your head against the wall, stop hitting your head against the wall!
When results from different channels are tied together through your website, you can view the buyer's journey across your owned and earned media, and witness the best lessons for next year's plans.
Marketing platforms are expensive. As you price out your alternatives, read the fine print and keep an eye out for the catches and gaps.
Be Nice to Your CFO
Marketing platforms are expensive. As you price out your alternatives, read the fine print and keep an eye out for the catches and gaps. Some platforms will cost less upfront, but snag you with seats or accounts. Others might suggest a flat fee, until the leads start pouring in; some offer innovative tools only available as add-ons after the fact. We've worked with them all, and even our favorites need to be examined carefully. When many review the costs, they look at the lower cost of patching together several, less expensive options. But what the CFO will tell you is to account for the extra staff power necessary to tie the loose ends together. In the end, as with most things, something has to give. A high-cost marketing platform may allow you to do more, efficiently and effectively, than involving more staff. When a CFO approves a premium priced platform, she also has the right to demand that project timetables and staffing allocations be managed more tightly.
Here are three signs that it might be worth making a significant investment in a marketing platform:
You have a clear understanding on what the goals are for the different elements of your marketing assets.
If you have articulated the roles of your website, paid advertising, sales force...etc., an all-in-one marketing platform can give you solid data and determine which of those elements are performing best and at what level in the buyer journey.
You have data about your current conversion pattern and the performance of your website in doing those conversions.
Having metrics that report how many visitors come to your site, engage with you on some preliminary level, provide information, and convert to customers is the difference between shooting in the dark and building upon real knowledge. But, you have to start somewhere. Think about the incremental revenue you have to acquire to pay for your platform, and set that as your first objective. Conversion data can then help you set tangible goals that your marketing plan is focused on achieving.
You have a midsize company with smart marketing people who have general expertise.
The size and talent of your in-house team will help justify the value of a high-cost platform. Those who've used marketing automation or analytics tools before will scale up to take on the challenge. Better more intuitive platforms can be a training ground for the uninitiated. Software is just a conduit for moving from ideas to action, and staff that understand that can make the most of your investment.