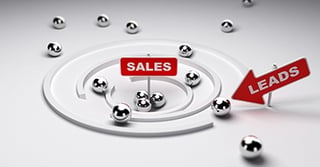 Cold calling and other outbound marketing techniques are solid marketing strategies, but they can't stand alone. Combining inbound efforts with outbound conversations and lead follow-up is the most effective way to grow your business. The tricky part is generating a sufficient volume of quality leads.
But, even more problematic is understanding what truly constitutes a "quality lead" — a conceptual dichotomy that increasingly prevails between marketing and sales teams.
Hubspot reports that more than two in five salespeople find it difficult to sell the leads they get from their marketing teams. Some have not been primed properly, making it exceptionally challenging to close. These leads are simply not ready to complete a purchase from a company they know very little about, much less trust.
While marketing might think they're offering up leads on a silver platter, in the end, it's the sales force that ends up shining the silver.
According to Hubspot, "59 percent of marketers say they provide salespeople with their best quality leads, while salespeople rank marketing leads last. In fact, marketing-sourced leads are ranked behind referrals and sales-sourced leads by all sales levels from the C-suite to individual contributors."
Effectively align the strategies of your sales and marketing teams by incorporating a lead scoring system
You Say Potato, I Say Tomato
In many businesses, marketing and sales teams have vastly different goals.
Marketers are typically incentivized for the quantity of leads, with less regard for the quality. They're also rewarded for getting the "most for their money."
Sales success is measured by the number of closed deals. But, if the leads they receive — regardless of the amount — haven't been cultivated or prioritized, your sales team is forced to grapple with wasted time, weakened performance, and low morale. Ultimately, your entire business suffers.
Marrying The Goals Of Sales & Marketing
One way to effectively align the strategies of your sales and marketing teams is to incorporate a lead scoring system. Lead scoring, a process of data analysis in which leads are assessed based on their likeliness to take a desired action (e.g. making a purchase), prioritizes leads per predetermined criteria upon which marketing and sales agree.
"Lead scoring is a methodology used to rank prospects against a scale that represents the perceived value each lead represents to the organization," according to a Hubspot article. "Job position, number of social media followers, or company size may be information valuable to your business about a lead."
How Lead Scoring Can Increase Sales
Lead scoring can be effective at increasing sales if you leverage it effectively by:
Following best practices for the development of a robust scoring system
Establishing a solid consensus between your sales and marketing teams regarding scoring criteria
In the next blog of this two-part series, I'll discuss the three key steps for creating an impactful lead scoring system.