Marketing Budgeting, Strategy, and Planning...Already?
This always happens at this time of year. We look up and Q4 looms large.
It's startling when you realize just how long things take, and how time gets away from us? It happens to me - and my clients - every year around this time.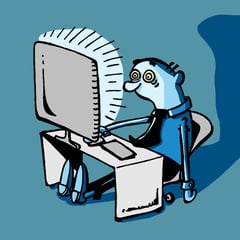 Well, it's not helpful to get all down on ourselves, wondering where we went wrong, whether we should not have taken that time off, whether we were focusing on the wrong things or the wrong people; or whether we need to revamp our team because everyone seems distracted and off their game.
It's just not productive to whine about it. But...we can learn from it.
A strategy that maps out goals and timing helps balance the flagrant optimism of the ambitious business owner, our birthright.
Focus on developing a strategy and a plan, and good things come along for the ride: a timetable, staffing plan, and metrics for success.
It's a whole package that has to be sewn up in a bow if we're to manage all the nuances, pivots, and unanticipated surprises we will absolutely encounter along the way.
2020 is the poster child year for this, don't you agree?
Over the past 15 months, we've been conducting customized 60-90 day strategy labs that help companies connect marketing programs squarely in line with their business goals. The outcome is a plan they can truly commit to and execute in full.
Some smaller businesses cannot accommodate the budget for customized one-on-one strategy work, so we've expanded our custom program to include a Marketing Strategy Lab specifically designed for small businesses. The program includes the same refined and proven process, materials, and instruction as the custom workshop, adapted to a group setting for small businesses.
Think about where you'll be in 90 days. It goes fast.

Explore the 90-day Strategy Lab to create a marketing plan that grows with your business