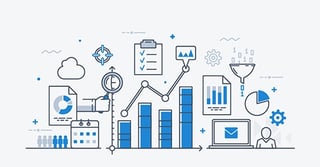 In my previous blog on this topic, I discussed the importance of not only capturing website traffic metrics, but understanding what they truly represent and how they contribute to successful digital marketing campaigns.
Now that you know how visitors happened upon your site (and how many of them arrived), you need to ascertain what they're doing when they get there. The amount of time spent on a site or specific page, plus any likes, shares, or comments, all add up to provide insight on visitor engagement.
Reach vs. Engagement
It's important to note that reach is different than engagement. In terms of email marketing, reach is akin to having a layover but not changing planes. You technically "arrived" somewhere, but you didn't really do anything upon landing. Simply because your email message landed in an intended recipient's inbox, it doesn't mean that target will further the conversation.
The key to generating more engagement is including a solid, persuasive call to action.
Engagement is a measurement of the depth and frequency of interaction. Using the same travel analogy, engagement can be likened to you getting off the plane, grabbing a snack or bottle of water, using the restroom, and then going on your merry way. Just how much you explore the airport during your layover depends on how much you enjoy what it has to offer. If you're at Phoenix Sky Harbor, you're going to make certain you grab one of the amazing peanut butter cookies in terminal four. If you're at Fargo's Hector International, different story.
The digital marketing engagement spectrum ranges from an email unsubscribe (the worst and ultimately "non-engagement") to conversion (the best—although remember conversion rates deemed to be successful depend on your campaign objectives). In the middle rests any other virtual activity, such as the examples mentioned above.
Strong Calls-to-Action Boost Engagement
The key to generating more engagement is including a solid, persuasive CTA, in your email communications and on your website and social media presence. This might be something like an invitation for visitors to sign up to receive email newsletters, get notified when new content is available, or complete a short survey about what they're looking for or would like to see more of.
The CTA doesn't always have to be about making a sale. Rather, the goal should be to incite action that will eventually lead to conversion. If you find your CTAs are failing to prompt further action, it presents evidence those CTAs are not resonating with your target audience. On the other hand, if the CTAs go gangbusters, you've identified a need and content to address it—content that speaks to your audience with relevance and purpose.
Scroll Depth & Engagement Timer Measurements
One metric that is helpful in understanding what happens during the time visitors spend on your site is scroll depth measurements. This analysis tells you how deeply users are exploring your pages, measuring at 25%, 50%, 75%, and 100% scroll points. Scroll depth is most useful on pages with robust content. It may not be as beneficial on pages where you're already tracking engagement (e.g. forms, CTA button).
Another helpful metric that you may want to enable is engagement timer tracking, which tracks events every 15 seconds and pauses when the page is not the active tab in the browser or when the user hasn't moved the mouse or pressed a key in the page in the last 65 seconds.
Scroll depth and engagement timer metrics should be assessed alongside your other metric analyses to form a more precise picture of visitor activity.
Your audience is giving you clues at every touchpoint. Examining the data can help you finesse your campaigns and ultimately improve your ROI. In next week's blog, I'll take a look at the third statistical component in play: social media metrics.