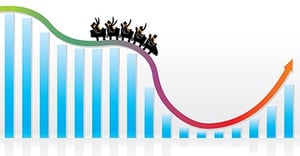 Navigating the sales funnel can seem more like a roller coaster than a smooth top-to-bottom transition if you don't have a solid content strategy in place. Last week's blog on this topic discussed why top of funnel content is no place for a "Buy NOW!" message. Instead, the initial stage (TOFU) should be focused on building awareness about your company and educating targets.
As you move down the funnel towards the middle (MOFU), you may become anxious to dig into active selling tactics.
Not so fast.
While not as hands-off as TOFU, this stage is still about awareness and education; just at a more intense level. It's the most compact part of the sales funnel but also the most important to B2B companies.
Unfortunately, MOFU is also the most complicated stage. Consumers got to know who you are and what you do at the top of the funnel. Now you must help them understand what you can do for them, but without being pushy—a tricky balancing act.
MOFU: Solution-Focused Content
Here in MOFU-mode, you must identify different buyer behaviors and how to best segment them for continued conversations.
When buyers come across an option that might meet their needs, they'll embark on more serious, in-depth research to determine whether or not your service/product will measure up. It's important to engage with them, just as you did previously, but the nature of the content needs to be highly educational and solution-focused.
A powerful content tool at this stage is a case study. Consumers get to observe problems getting sorted out through others' experiences, which is more persuasive than a simple promotional promise from you. The tactic is to "show, not tell" how your company provides answers and why you're an expert in your industry.
Quantitative data supports case studies that showcase then/now comparisons. For example, revenue before versus revenue after, or number of customers then versus now. Gains are best reflected with visual representations (charts, graphs). Qualitative measurements come in the form of testaments to your excellent customer service or easy payment plans, or improved customer satisfaction on their end.
Case studies are also abundant sources for repurposed content offerings, such as blogs, social media posts, podcasts, and testimonials.
Other forms of content that nurture buyers along this part of the journey include white papers, FAQs, demonstration videos, data sheets, product webinars, and expert guides.
Segmentation Furthers Funnel Migration
At the top of the funnel, content marketing is broad. You cast a wide net to let consumers know, "Hey, we exist." Here in MOFU-mode, you must identify different buyer behaviors and how to best segment them for continued conversations. A newsletter subscriber follows a different communication path than someone who downloaded a white paper from your website or followed up on a video tutorial. If you ignore buyer preferences, you risk alienation and abandonment. On the other hand, speaking to each group with targeted specificity and familiarity fosters trust and furthers migration down the funnel.
Unfortunately, MOFU is also the most complicated stage.
Now, more than ever, consumers are demanding personalization. If your content strategy doesn't allow for segmentation, it's worth considering how you can incorporate more individualized interactions—even if that involves a budgetary investment.
Bridge the Gap
Again, this stage is critical to successful conversions. Your TOFU content drives traffic to your website and boosts brand awareness. Bottom-of-the-funnel (BOFU) content—which I'll discuss next week—really "makes the case" for buying your product or service. MOFU bridges the gap between the two.
Without that binding connection, you'll suffer an infinite ride on the conversion rollercoaster.