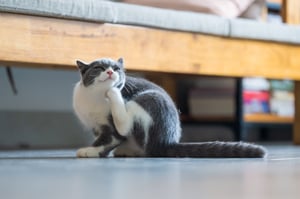 In my blog last week, I referenced that I believe I'm becoming a "real, human marketer." What I meant by that is that I've started to look at everything from a marketing, branding, customer journey, and customer experience perspective. I would not go so far as to say "the student has become the master" (I still have a lot to learn), but it's actually quite fascinating to observe the world in this new(ish) light.
One thing I've observed is that brands who "do it right" share this defining characteristic: They really take care of their customers.
Why Chewy Does It Right
"Brands who 'do it right' share this defining characteristic."
Let me give you an example. I have two kitties, Cam and Mac. Cam experienced some not-so-fun urinary issues about a year and a half ago and has been on prescription food since. I order the food from Chewy.com instead of getting it from my local vet for a number of reasons. One, it's fast. From ship date to my door is usually only one or two days. The company also manages the prescription, contacting my vet when a refill go-ahead is needed—and making my life way easier.
Most importantly, their customer service is nothing short of amazing. I try not to use that word lightly (or in excess), but in this case it absolutely fits.
Situation #1: I ordered a harness, but it ended up being the wrong size. Emailed CS inquiring about how to return, which I was more than happy to do since I had already re-ordered the correct size. The response? No need to return—please feel free to donate it to a local shelter or to a friend or family member's pet.
Situation #2: I chose the wrong shipping address by mistake (I sometimes ship items to Minnesota). Upon realizing it, just minutes after placing the order, I called the CS phone number. It was 10:00 p.m. on a Saturday. The other end rang only once, and the most pleasant representative immediately fixed my blunder.
Situation #3: Rx food arrives, I open the box and it's the wrong food. Called the CS number (again, only one or two rings and a real person right away; no robot). The rep was deeply apologetic, got my correct order out for shipment, and again asked if I would kindly donate the food to a shelter (which I did, to the organization from which I adopted my guys).
Situation #4: An offer was sent to me for $15 off a prescription order. I was trying to apply it to my food order, but the promo code wasn't working. The rep I spoke with explained that it was only for Rx medicine (not food), but she would be happy to give me the discount and even stayed on the line with me until I completed my order to make sure it worked.
In each scenario, I felt important, valued, heard, and cared for. I've never been made to feel like I was in the wrong (even when I was), and my satisfaction is clearly the company's number-one goal.
All Give, No Take
We all have our Chewy-type companies, those who often go over and above the transactional nature of a company-customer relationship. They recognize one important thing: If the company truly and purely takes care of the customer, the customer will take care of it. But, the element that takes this yin-yang dynamic to the next level is that the company doesn't expect to get its back scratched back. Its genuine focus on customer satisfaction is legitimately its top priority. The bonus is customer loyalty.
"If the company truly and purely takes care of the customer, the customer will take care of it."
Of course, there's the opposite—companies who could use some lessons in creating (and then preserving) the precious trust required to build brand loyalty. The worst ones treat you as an afterthought; just one more number in the machine. I won't name names, but I could go into my deleted emails and identify a few without hesitation. I'm sure you could too.
The good news is, I get to work for a company that does it right by both logistically giving our customers what they need, when they need it and emotionally investing in their satisfaction and success.