How many boring corporate emails and newsletters have your received in recent days, telling you how much brand X or company Y cares about their customers and employees during this pandemic we're all coping with?
Can't they do better than this?
We already know we're living in the middle of a vast and rapidly changing social experiment. As communicators we need to do much better than offer scripted platitudes at a time when everyone is looking for authentic human connection.
Podcasting can help.
I feel really passionate about this.
As we physically distance ourselves from others, many more people may turn to podcasts for calm reassurance and a sense of belonging.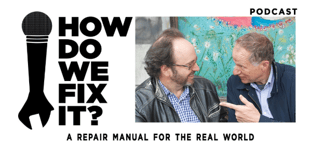 Our medium is uniquely spontaneous, informal and intimate. Instead of being six-feet-apart, the impact is personal: a single human voice in your ear with all its emotion, warmth, and passion.
At our weekly solutions news podcast, "How Do We Fix It?" my co-host and longtime friend, Jim Meigs, fly by the seat of our pants— now so more than ever. Instead of well-edited scripts or carefully crafted questions, Jim and I do a ton of reading, research and reaching out to our guests.
After hours of prep, we head into our separate remote studios and throw extreme caution to the wind.
With the pandemic, we've rapidly pivoted to doing subjects everyone is thinking or talking about. We work just a few days or hours ahead. As longtime radio and magazine journalists, parents, and active members of our community, we draw on years of experience share stories and insights.
We get tremendous help from wise guests who communicate in ways that are trustworthy, personal and of value of value to others.
Our interview podcasts allow for humor and moments of surprise. But after we finish off the record button, we become ruthless editors. We have three rules of post-production:
Always leave something on the edit room floor that we wished we could have included.
Preserve the delightful moments when our conversations head down a fruitful, unexpected path.
Leave our listeners wanting more.
We know that our audience might not be as deeply interested in the subject as we are.
This makes sense when listeners have so many choices and our ways of received information have dramatically changed. It's been decades since everyone read from the same range of newspapers or watched one of three network news shows. Now we all have different styles of communication.
More than at any time since the dawn of television, we are in a golden age of audio communication. From rapidly evolving AI-powered voice recognition and search, to the rapid adoption of smart speakers, and increasing sales of audio books, the spoken word now plays a larger role in most people's lives.
"Technology can be overwhelming and confusing."
Technology can be overwhelming and confusing. All too often we are distracted by our smartphones and other devices with their bongs, beeps, instant alerts and pop-up messages. As we are pulled in different directions, consumers feel a need to be connected with their communities and networks of friends, families, colleagues, and those they do business with.
Podcasting allows for multitasking. Unlike video or email, we can listen to our favorite shows in our cars, kitchens, and while out on a walk, as we are doing something else.
At the same time we can use really concentrate on what we are hearing. The listener is not distracted by the host's appearance or poor dress sense!
Another advantage of podcasting for those who have something to say is that the producers can control their own message and develop a thought over several minutes, instead of merely opting for snappy slogans, flashy videos or brief soundbites.
Podcasts enable thought leaders to communicate directly with their colleagues, followers and employees in a relaxed, unscripted and less formal manner, as they make a truly human connection.
As our daily routines and assumptions about life are thrown radically off-balance by COVID-19, we need people to talk to us, not at us. To be effective with those they serve, businesses and brands must communicate with honesty, clarity, and, yes, kindness. This is the vital currency of this worrying moment.