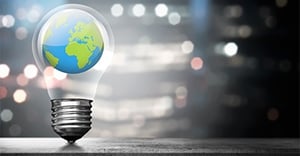 White Space Marketing Group is a "fully-distributed" company. A term coined in 2010, a distributed company is one without a centralized office and with staff working from a variety of regional, national, and even international locations. What used to be a Silicon Valley trend, is now a common occurrence for companies of all sizes and in a wide variety of industries. Whether based in small Missouri city or bustling New York City, distributed companies are here to stay.
Prolific Automattic, the makers of WordPress.com, WooCommerce, Jetpack, Simplenote, VaultPress, Akismet, Gravatar, Polldaddy, Cloudup, and more, boasts 694 "Automatticians" in "63 countries speaking 80 different languages." White Space isn't nearly that large (yet) but we have the same advantages and challenges all other distributed companies face.
Pros
Hiring: When it comes to hiring, the world really is your oyster! You're not limited to local talent to find the right fit, which can be a challenge in small markets. Our White Space team is dispersed all over the globe. Having a diverse team allows for unique perspectives and experiences.
Work-Life Balance: A "buzz phrase" in many a LinkedIn article, this is actually something that remote work excels at. Our team members appreciate having the flexibility to take care of their personal commitments during "regular" working hours. Mid-day doctor appointments that run late, chaperoning a daughter's field trip, or accompanying a spouse for a colonoscopy are all easier because the added pressure to be in the office is non-existent.
When it comes to hiring, the world really is your oyster.
Nimble Teamwork: A remote workforce spanning a variety of time zones makes us a nimble agency. For example, when a client emergency arises on the east coast at 4:00 p.m., it's only 1:00 in my world. I recently rallied our staff to deal with a last-minute client emergency. We managed to turn the finished product around in less than two hours, and half-an-hour before the final deadline—an accomplishment that not only speaks to the agility of the White Space team, but also to the benefit of having multiple arms of the company always at the ready.
Lower Overhead: Renting office space is not cheap, especially in larger markets like New York. And while the office tools remote workers use do factor into the budget, they are far less expensive than staffing a brick and mortar facility. The savings can then contribute to timely software or equipment upgrades, instead of waiting for a breakdown.
Cons
Communication: Most agree that face-to-face interaction is typically the best way to get one's message across. Since the majority of remote communication takes place in writing (email, instant message, and SMS) or via conference calls, the risk for misunderstanding increases. A distributed team requires people with excellent written communication skills and even better discernment. They need to know how to add context to an email so that their colleagues understand the message. They need to understand when a quick Slack message is more appropriate than email to communicate with a client. And, they need to convey warmth, friendliness, and empathy in what is otherwise essentially a flat communication method.
Professionalism doesn't have to be boring.
Cohesiveness: Camaraderie and a cohesive company culture don't develop naturally for remote teams—they require deliberate effort. Small talk creates a sense of trust and friendship, and serves many other purposes in developing relationships. But, it is often missing at the beginning of conference calls. I intentionally and routinely fill the silence by asking about a specific aspect of someone's day to get the conversation going while we wait for everyone to join the call. As an introvert, I normally hate small talk, but under these circumstances, it allows me to better connect with the folks I love working with, and that is truly a treat.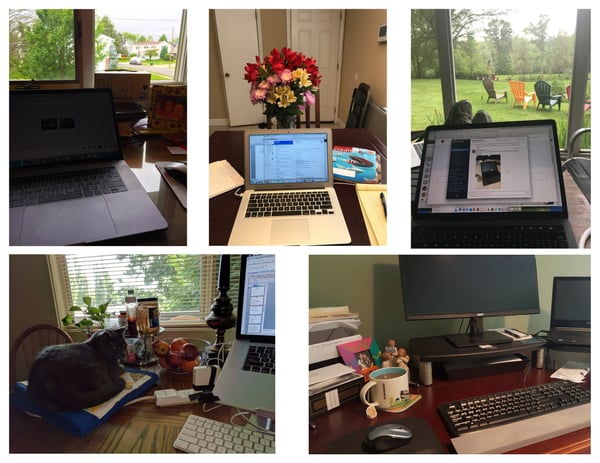 We share "my current view" pictures with each other via Slack.
Time Zone: While differing time zones worked to our advantage in the above example, it can also be a detriment. Colleagues and clients may not be available or accessible when you really need them. We ameliorate any potential drawbacks with proper planning and frequent communication.
Happy Help, Healthy Biz
If you didn't go into an office for a 9-5 job, were you really working?
If you think of employee happiness as a business strategy, it makes a lot of business sense to build in flexibility to your company's workplace environment. And, if done right, a distributed agency culture can also improve client relationships thanks to the resulting efficiency and dexterity in navigating client needs.