I'm feeling thankful as Thanksgiving approaches, as I hope you are too; thankful for the moments in my work and personal life that feel collaborative and supportive.
When it comes to working with my sales partners in the journey toward customer acquisition, they know the equation is 1+1=3 in sales and marketing. We need each other like my turkey needs its cranberry sauce. (Corny but true: I make a knock-out version that I'm willing to share if you ask.)
But for many organizations, sales and marketing teams are not aligned.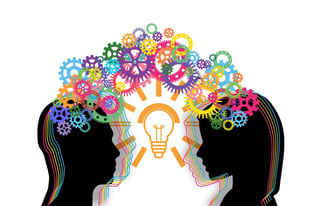 It's a mystery to me, but so often marketing and sales leaders—and their teams—remain siloed. Sure, there are moments where the two work together beautifully, but on the whole, it's a relationship that's workable at best—and antagonistic at worst.
It doesn't make any sense. CEO's lose patience with this petty arm wrestling. Sure, they focus on different parts of an organization's revenue cycle and are measured on different KPIs as well, but at their core, both teams want the same thing: for customers to find the products and solutions they need, to find a provider who can solve their problems, and results to drive a profitable business.
That's true—but as is the case with most unsolved mysteries, there are always a few layers that need to be peeled back. Let's get into those success measures at the core of the struggle.
For sales teams, compensation is the defining metric of success. Failing to fill the sales pipeline or close deals is directly connected to a sales team's financial accomplishments—the company's as well as their own. Yes, marketing's successes are measured by compensation as well, but not in such an immediate and personal way. It's the reason why emotions run high and patience wears thin for those in sales because it's so connected to livelihood in a way that marketing teams often don't have to consider.
I maintain that these differences lead to misunderstandings and an inability to see things from the other side" when it comes to performance measures:
Sales often see the marketing team as order takers and support centers, rather than strategic partners and revenue drivers.
A successful marketing campaign takes time and resources to build, and even when a prospect decides to buy, it can be tough to know which of the several campaign touchpoints influenced their decision to convert. With sales, you close a deal, and you know exactly what the impact was.
The two teams don't communicate nearly enough as they should. Feedback loop, anyone?
CEO's lose patience with this petty arm wrestling.
A marketing pipeline is a lagging indicator. Influence over marketing qualified leads is limited once they're incorporated into a sales process. Sales activities, however—meetings set, discovery calls made, follow-ups achieved—those can all be improved. This doesn't mean that sales are seen as more important than marketing, but when a company is concerned about revenue goals quarter over quarter, the sales team will always have a spotlight on them.
With all of this context, it still seems like there's a gap in understanding. Every article I read about marketing and sales has the word "alignment" in it. "It's essential for sales and marketing to be in alignment with one another," they say as if the two groups are mechanical devices that just need to run parallel to each other in order to work correctly.
The truth is that it's more complicated than that, and we shouldn't pretend it isn't. Asking sales and marketing teams to "align" is like asking them to walk before they're ready to crawl.
What can we do instead? Collaboration. Good, old fashioned collaboration.
Jeffrey Cohen says it best in this recent Gartner piece: "Alignment is not a status to achieve—it is a continuous path of collaboration."
What would be on my marketing and sales "collaboration wish list"? I'm glad you asked…
Messaging
Typically, creating product or brand messaging is the responsibility of the marketing team. And this makes sense. It's important that a brand's messaging be consistent across all touchpoints with your points of differentiation clearly mapped to one another. Your customer's pain points and how your solution can alleviate them—and how it does it in a way that's different from your competition—is messaging your marketing team can make sing at a high-level.
For sales, it's more of a customer-specific interaction. The discussions sales are having with prospects are 1:1, and they're getting a direct and honest look into their challenges and their specific needs. Their sweet spot is messaging at a more personal, local level.
What can we do instead? Collaboration.
Being able to bring the global and local together through regular interactions—where sales can share specific words or phrases being used, perspectives being shared, and the needs that need to be met—help to tweak messaging on both sides.
Or, wrapped up in an overly simplistic way: marketing messaging is charged with generating curiosity. Sales messaging is charged with resolving that curiosity with applied information based on a specific customer need.
Sales Collateral and Enablement
It's difficult for marketers to create content that helps sales teams sell more effectively if we don't understand what's working and what isn't. Instead of creating content in a vacuum—or worse, creating the same material over and over for sales teams without getting feedback (let's be honest: do sales teams really need another one-pager?)—there are some ways to make this a joint effort:
Listening to sales calls. Is it possible for your marketing writers to listen in or (or review recordings of) sales calls so they can hear customer reactions in real-time? Having access to customer voices, and hearing the hesitation, excitement, and questions at certain points of the conversation can make it easier for your marketing team to create content that helps them get better at navigating future conversations with prospects and overcoming objections.
Implementing a feedback loop.

As new sales tools are created and deployed, the marketing team needs to know about their effectiveness. Regular communication between sales and marketing can ensure the tools being created actually do what they're supposed to do.
Ongoing Collaboration
This may seem like a lavish request—sales and marketing teams don't have a lot of spare time for regular brainstorms, but hear me out. What if your organization had a Sales & Marketing Advisory Board, made up of a select group of people from both teams, whose responsibility it was to exchange information on deals closed, campaigns being brainstormed, potential success stories to highlight, or new test markets to consider for a mini-campaign?
Even if these "board meetings" happened once a quarter, they'd go a long way in strengthening communication between the two teams, and it would offer the opportunity to partner in ways not usually considered (it's surprising the kind of ideas that come up when you actually sit down and talk to each other).
And Now… For Something Completely Different
While the ideas I've touched on above are not completely new, I'd also argue they're not being done. However, if we're really looking to move the needle on marketing and sales collaboration, I have a few additional ideas:
Compensation. What if we designed a compensation model that affected both sales and marketing equally? What if everyone shared in success across all marketing and sales channels? If you distribute high-value content as a marketer, doesn't that pull in referrals in addition to new cold leads? Let's explore whether we can make those success measures more collaborative so that the emotional investment is more balanced.
Leadership. Over the past few years, there's been a trend in companies to designate a role for Chief Revenue Officers (CROs). These roles live at the intersection of any field that drives revenue (sales, sales operations, marketing, customer support, and pricing). This is a much-needed role in a company, but the tough part is that CROs usually come from the sales side vs. the marketing or strategy side.
There are some ways to make this a joint effort.
Whether your company needs a CRO who comes from marketing or a CRO who comes from sales depends on your business strategy. If you have a robust sales team with a proven sales process—but your pipeline is slim—the problem may reside in your messaging or your channel strategy (i.e. where your content is placed).
If you have solid messaging and positioning and an inventory of marketing content and performance data, but leads aren't being served effectively by the sales organization, you might want an experienced sales leader in that role.
Admittedly, many companies need both. In all cases, a C-suite authority in this role needs to be able to fill the most critical gaps where they've met the most friction. A good, hard look at your data will reveal some insights.
You may also find that the gaps in marketing can be addressed with temporary or outsourced help (this is what I do), in which case a CRO can run the acquisition of new business while a marketing leader can address the messaging or channel strategy gaps—and then go home!
See our entire YouTube channel, Marketing Air-Cover, for additional guidance on marketing strategy for small businesses.

Learn more about hiring a fractional CMO here.