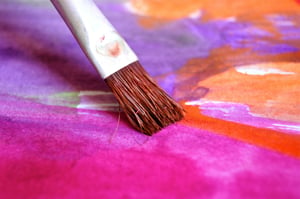 I am not an artist in the typical sense of the word. I don't paint, I've never made anything out of clay (at least not since elementary school), and the closest I've come to sculpting anything was helping my girls glue macaroni together.
Where my artistry shines is in words. Words can incite design.
Words: Leading the Way to Design
The image is there in my mind. If you could scan my brain for the translation of ideas, you'd see words not images.
Words can incite design.
I get a little help from tools like Lucidchart, a visual workspace, to describe processes. And my PowerPoint files are filled with bullseyes and pyramids, and big time overuse of the "shapes" function.
But, I do believe that words can drive images and ideas. Asking questions can get to the heart of a problem that needs to be solved. And data can bring out a meaningful centerpoint to a visual.
Here's how I've found words can lead the way to visualizing an idea:
Ask the right questions
Find metaphors that bring ideas to life
Dig up use cases that describe an action, result, or reaction
Drill down on specifics in the answers to get to the nitty-gritty
Describe an action your protagonist (or audience) will take
From Artistry to Insight
My favorite example of this is how we described the tension experienced by an individual who falls into the Generation X cohort—a group we've been intensely researching for the past six months.
"Our guy: He's got one foot in his 20's, where he was a serial dater, on a turbo-charged career trajectory, and could rock the latest fashion without looking ridiculous. The other foot is in the future, looking ahead to 45, managing his leisure with his retirement plans, mortgage obligations, marriage, kids… and wondering how to bundle each."
That's where the insight lives.
Those are the words that paint the picture of this very disrupted generation. We'll use these words to create a story around his life and its connection to your product or service. That's where the insight lives.
Bringing artistry to marketing starts with words. If you can bring the right balance of art and science together (words + data), the result is something that can really bring a brand to life.