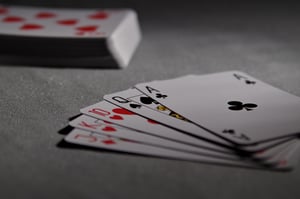 Recently, a friend asked for a WSMG credentials deck to send along to a referral. I'm so grateful, but I always pause and ask: Is this really a good idea?
Credentials decks are about the "what" of what you do. It functions like a checklist. Do they do what I need?
But, it's hard to convey the unique why-and-how in a two-dimensional asset.
The deck attempts to deliver the intelligence, the attitude, the trust, and warmth that clients feel when they work with us. But let's face it, that's a tall order. There's Loom and other video tools that might help bring our team to life. That does help. But there's nothing like the face-to-face -- even if on a Zoom video call -- to really get to know us.
"I always pause and ask: Is this really a good idea?"
Testimonials help, too, but they're also static. There's no emotion to convey just how much of a difference we made in driving results, based on individual clients' needs. The growth opportunities we're able to identify in the clients we serve are not the result of an "across the board" approach. Whereas one company may need help prioritizing marketing based on budget, another may have fallen stagnant in their efforts and needed help getting back on track. One size doesn't fit all, but one size also fits none.
The best we can do is stimulate curiosity about our values in words and pictures, and hope that there's enough to distinguish us from the other ten thousand marketing companies.
So far, so good. But is it good enough?
Do you have a secret approach for conveying your uniqueness in a two-dimensional piece of communication?