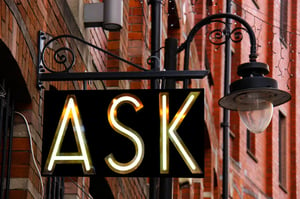 With Father's Day celebrations just behind us—and reflecting on how important a father's guidance is—it reminded me of an attitude that was ever-present in our home. Every day that our kids left for school, from the youngest age, Lou sent them off with this instruction: "Ask good questions!"
In a world where everyone is "selling" something, this philosophy represents a particular skill set that rises above all others.
Feed Your Curiosity
Curiosity isn't something that can be taught. You can teach someone how to phrase questions the right way, or what topics to explore.
The innate nature of curiosity has to have room to grow.
But innate curiosity has to have room to flourish in order to be able to bring about insight. We see this across all areas of exploration, from product development, to travel, to health...to romance!
And, a set of good questions accomplishes so much:
It challenges convention
It channels curiosity
It jump starts stalled progress
It demonstrates knowledge
It shows caring and concern
Sweet Opportunities of Silence
Sometimes, questions are complex, multi-part queries. Other times, they're open-ended ( Why? When? Where?)
Listening is just as important as doing the asking.
Still, other times, silence yields the best answers. We don't always have them, and there's nothing at all wrong with that. Sitting in silence, allowing space for the questioner to hear the questions, she may provide answers she didn't even know she had. In this way, listening is just as important as doing.
If you can become comfortable in the "unknown," you open up endless possibilities for growth—both personally and professionally.
Here's to the father figures--and many others--in our lives who may not have the answers, but care enough to ask.