This is a fairly obvious point, but one that bears repeating: 99.9% of your customers don't want to be sold stuff.
They want to feel empowered. They want to purchase from brands who understand them, make their lives easier, share their values, have an incredibly relevant product or service, and are able to deliver that product or service every single time.
How do you let your customers know that you can fulfill all those wants and needs?
It's by telling stories about your brand.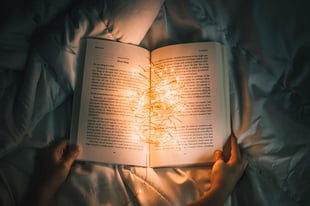 Okay, don't roll your eyes. Stay with me! I'm sure I just heard a collective groan from anyone who's reading this piece. Yes, Ilene, we know. Storytelling–the answer for marketing anything. We get it.
I understand the fatigue. We've held up "storytelling" as one of marketing's sacred cows for quite some time. We've overused the word so much that it's impossible to agree on one definition. What storytelling truly is means something different to every marketing team, every CEO, and every customer. It's not neat and tidy.
All the same, I still believe that storytelling is one of the most valuable tools companies have when it comes to both brand awareness and the long game of customer acquisition. Relating to each other through story is what helps us connect as human beings, so it only makes sense we apply the same thought process when trying to connect with our company's ideal customers.
So, what's the problem? There are some businesses that don't think they have a story. Others think their products and features are stories. Or, a company might know they need to tell a story, but it's not the one that will draw in their potential customers. They concentrate on the functional story–the way their tech works, or the way they deliver results–rather than the human one.

The foundation of a story is that it takes you on some kind of journey. Often, we separate our lives. Business and personal. Tactical and strategic. Emotional and logical. But there's a sweet spot in brand storytelling where the two meet–and as brands, it's our job to get our prospects to that state. We have to answer the "how," "what," and "why" for them. How do we ensure we have all the tools in our toolbox to answer those questions? I ponder all of this below.
One Definition of Brand Storytelling
As I mentioned above, definitions of brand storytelling abound–but I think it's important to start somewhere. So, I'm borrowing this one from Debbie Williams via this Content Marketing Institute piece. She says, "A brand story is made up of all that you are and all that you do. From the company's history, mission, inspiration, goals, audience, and raison d'etre, it's why you exist. It's the foundation that keeps a brand going and growing."
I appreciate Debbie's definition because it gets to the core of why your brand's stories can often be so hard to pin down—there isn't one brand story for your business. Instead, there are a million tiny stories that blend together to create the big picture: how your company came to be, what problem you're committed to solving, your culture and employee engagement, how you make people's lives better or easier, and your company values.
All of these pieces combine, in theory, to create something your audience wants to be a part of. They can see themselves in what you offer. Your brand story has the opportunity to make people curious–to make them ask, "What if?" In that way, your story becomes their story, too.
Features & Benefits ≠ Stories
Allow me a slight detour–and a soapbox moment. You'll notice that nowhere in Debbie Williams' definition of brand storytelling does it say anything about products, features, or benefits. That's because, frankly, even the most innovative features–the "best X," "fastest Y," or "easiest Z"–are curiosity-killing.
How do you let your customers know that you can fulfill their wants and needs?
Products and features are, to use classic advertising terminology, a "reason why." They support the value you propose. They prove you know how to deliver on your promise. They explain how the sausage is made–which is sometimes necessary, but typically that's reserved for the sales process, not marketing messaging.
Even your best customers won't refer you because you have the best tech, turnkey operations, or the most experienced team. They'll probably say softer things: you were flexible when you hit a roadblock in your engagement, that you were able to give a bit more even when it was technically out of scope, or, as a CEO once told me in a 1:1 before re-engaging, "You just seem to care!"
These are the seeds of your story that will help prospective customers feel something about you and your company.
True Brand Stories Are Company-Wide
As brands are getting started with storytelling, they'll often default to sharing their company values or culture. While that's important for customers to know and understand, there's more to it than that. Not to be the millionth marketing mind to bring up Simon Sinek, but it's why your company does what it does that's truly compelling. This gem is typically anchored in leadership; why founders struggle every day, why growing businesses have great employee retention, and how smaller companies get acquired.
Telling that deeper story is something that's the responsibility of the entire company–not just your marketing team. It's about empowering employees and teams across your organization to share the stories of their day-to-day work and leveraging those pieces in service of the larger brand story.
Miri Rodriguez, who works at Microsoft as a Senior Storyteller, emphasizes that the best brand stories come from having that 360-degree view. "Brands should be telling stories from different aspects of the business: sales, marketing, operations, customer service, as each has an exclusive positioning in the brand narrative touching every aspect of the customer experience," she says. This is truly what the "larger" brand story is–a collection of vignettes and anecdotes that reinforce your brand's purpose.
This also means that specific departments and teams shouldn't be afraid to use your brand's story to reinforce their own work. Brand strategy–how a company will build rapport and favorability within the market–is tough work. Marketing teams wrestle with these strategic questions because uncovering a brand's differentiators and core values are so critical to the success of the business. So when we see a sales deck and none of that story is included, it's hard to feel like everyone's on the same page.
Brand Narrative > Brand Story
I recently read this piece from Alexia Boiteau. She says–and I agree–that today's brands and companies are no longer a singular voice, and that the "success of a brand lies in its abilities to incarnate the collective meaning of a larger community."
She goes on to say that it might be more helpful for brands to concentrate on brand narrative instead of brand story.
The foundation of a brand story is that it takes you on some kind of journey.
We often think of these words as interchangeable, but Alexia defines narrative as a story that doesn't end–pieces that "persist and expand over time, continuously unfolding, and shaped and filled in by an audience."

I love this approach because it broadens the view of the story. For example, the brand narrative of one of my clients is that they take actions that their competitors don't have the guts to take. They have the courage to stand up to their clients, even if it means losing them. This narrative doesn't change, which makes it easier for current and potential customers to interpret.
Does Storytelling Even Matter Right Now?
One of the biggest issues I have with stories is that they feel frivolous to many of us. The definition of a story is "an account of imaginary or real people and events told for entertainment." Sounds like something we can cut from a marketing budget as a recession looms, right?

Not so fast. I'd argue that finding ways to tell your story–or, rather, to extend your narrative–during an economic downturn is one of the best times to tell it. As this recent Advertising Week piece points out, the winners during a recession are not the companies that crossed their fingers and hoped their customers would continue to purchase them–they're the companies who continued to focus on brand storytelling.

Brand stories aren't nice to have. They're your organization's fuel, its compass, its drumbeat. Don't let how you tell the stories–or what you tell–trip you up. Concentrate on conveying your why–the soul of your brand–and the rest will follow.

See our YouTube channel, Marketing Air-Cover, for additional guidance on marketing strategy for small businesses.