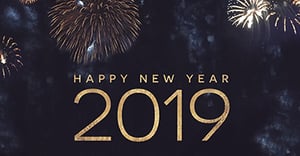 OMG 2019. That is just way too close to 2020. It means my kids have crossed over into adulthood. Lou and I will be married 25 years, we've lived in our "new" house for 12 years.
And, January 12, 2019 represents the 7th anniversary of White Space Marketing Group. I'd like to thank the following clients for helping us shape a smart, scrappy, experienced, ever-enthusiastic company from one audacious post-recession idea:
DMD

Conservatory Craftsmen

CreditRiskMonitor

Home Work Solutions

LeanOnWe

Plaid Creative

PEX Card
My resolutions for 2019 include packaging our energy and brilliance into digestible, affordable, measurable packages so we can share WSMG with more happy customers!
Now it's time to stop and look around and appreciate all that I have.
Now, here are a few of the resolutions from our hard-working team...
Bari Cener: My New Year's resolution is always the same: live a healthier lifestyle. I should eat better, exercise more, and drink less. What I typically do is invest more in self-care, which is far more enjoyable: foot massages, professional highlights, some understated Botox. Maybe I'll resolve to do both.
Shina Neo: I've never been one to make a list of New Year's resolutions. I think one year (probably over a decade ago), I made a resolution to work on my road rage. It's a work in progress, I'll put it there. And while the end of the year and the beginning of another means a few extra white hairs, there's a lot to be grateful for and I'm excited for the future. Wishing everyone a healthy, happy, and prosperous 2019!
Cris Castro: New Year's has always seemed to me a beginning of a new life, new beginnings, or a new path of self-development, but I never write detailed resolutions, having only an abstract understanding of my plans for the future. But, this year will end with a following resolution which I hope I can accomplish. First, I would like to save financially to do things that I love the most, namely traveling. I believe that when we do what we love, we are more likely to be productive, successful, happier, and healthier. Second, I strive to learn something new every day. I need to be more open with new ideas, new solutions, and be innovative in showing my creative spirit. Third, track my to-do list. I am a very busy person; a mom, a wife, and an employee. By keeping such a list, I will make sure that my tasks are written down all in one place and never forget anything important. This will help me become a better mom, wife, and employee. To sum up, I would like to say that I will not keep waiting for the New Year to come and will realize my plan in the nearest future. It is not necessary to wait for a new day, new age, or new cycle in order to change your life, because some adaptations or adjustments can and must be done immediately.
Enjoy more kitty snuggles, get back to my sub-9-minute mile, eat more bacon (yep, I said more)
Sylvia Anderson: I'm not usually one who makes resolutions, because I'm fully aware of my personality and what it takes for me to truly make a change. That said, I do have some goals for 2019. First, get back to doing one of the things I love most: travel. Last year was not conducive to that, but I'm hoping 2019 will present new opportunities. Second, read more. I have all these wonderful books just sitting on my shelves collecting dust. Then, just a few more: enjoy more kitty snuggles, get back to my sub-9-minute mile, eat more bacon (yep, I said more), watch less cable news, and be better about appreciating all the blessings in my life as opposed to feeling smothered by the stressors. Happy New Year everyone!
Joyce Keisman:
" You say you want a resolution… well, you know… we all want to change the world …"
Oh, wait, that's reVolution. Speaking of which…
This year my resolution/revolution is be more "in the moment." And honestly, it's a departure for me, mostly because of my personality but partially because so often I am looking around the corner to see what's next. So, now it's time to stop and look around and appreciate all that I have. Not in the material sense, but in the zen sense, an inner reVolution, if you will. Now is the time to take a breath, take it all in, be with family and friends, and see today. I mean, really see today.
Don't you know it's gonna be
All right, all right, all right
All right, all right, all right
All right, all right, all right
All right, all right
Lisa Ellis: As 2018 draws to a close, I am excited to have many New Year's resolutions on my plate! My biggest resolution is to keep my house more organized. My family and I have lots of clutter, but we are excited to downsize and make our busy lives a little simpler. I also want to carve out more time for myself to exercise, eat well, and to write fiction. These priorities fell by the wayside over the past few years, but I am hoping to pick them back up in 2019 and find a permanent way to fit them into my schedule. Finally, my last resolution is to become a calmer person and try to live more in the moment and less in my head. As I get older, I increasingly recognize how important it is to be present and really take in all of the details that exist.
I will stick to my life's resolutions
With the wonder of the New Year spread out before me, I am so grateful to have the chance to weave all these meaningful changes into each day. I think they will allow me to enjoy my children with less stress and it will help me make 2019 a wonderful year filled with all of the things I love best.
Ana Dial: 10, 9, 8, 7, 6, 5,4, 3, 2, 1... Happy New Goals! It's always exciting to start a new year with a new set of resolutions. I will stick to my life's resolutions: Do more of what makes me happy, do good, eat the cake (chocolate in my case), stay healthy, enjoy more family time, fly to Israel (my BFF lives in Tel Aviv), hang out with the hubby, and take one day at a time. Wishing everyone an awesome 2019 and may all your resolutions come true!