I recently dug out a bookmarked New York Times article from several years back: Small Players Seek an Alternative to the Expense of Pay-Per-Click.
The article profiles a few business owners who learn an expensive lesson. While early PPC (pay-per-click) results can be seductive, this initial success is often followed by diminishing returns. In the hunt for other avenues to qualified lead generation, the authors find inbound marketing, a path to generating more leads at a lower cost.
Today, twice as many growing businesses are using inbound marketing as when this article was written. Driving inbound marketing traffic to your website - driving unpaid traffic - is practically a mainstream philosophy.
In the early days of White Space Marketing Group, we drank that Kool-Aid, too -- but today, I have a slightly contrarian view to share.
We've found that paid ads - carefully tested and measured - can augment your inbound programs with efficient lead conversion. Here's how.
Using pay-per-click to complement your digital marketing strategy
The Times article makes a compelling case to shift resources away from pay-per-click advertising. It describes how successful PPC campaigns often become less efficient over time: the more PPC drives traffic, the more competitive the bidding process gets, causing cost-per-click costs to rise without delivering better results.

If more PPC activity in a sector results in higher costs-per-click but no higher conversion, how can we adjust paid advertising programs to be more efficient in generating qualified leads?
Let's look at actual client results. In the example below, we show how we used PPC strategically to uncover keyword opportunities, improve conversion rates, and drive leads.
How a B2B company used PPC
to improve inbound marketing results
First, a note about the category in which this client operates. It's very expensive, with Adwords pricing and bidding driven up by competitors who can tolerate the impact of heavy ad spend on their margins.
To counter that, our client operates with smarts and patience; by culling customer insights to develop meaningful and high value blog content, a robust organic traffic stream was built.
They use PPC more strategically to help optimize their digital strategy. By learning what people are actually searching, and how specific ads convert, they can target better keywords for organic SEO. And by continuing to test and optimize, they figure out how to drive cost per click down, and conversion rates up.
After only nine months in the marketplace, the combination of organic, referral, and social traffic was performing strongly:
In the first four months,

PPC

represented

a significant source of traffic,

with a visit-to-lead conversion rate of 1.5%.
By month five, organic traffic, and traffic from referrals, email, and social, begin to do the heavy lifting.
In months six-through-nine, less traffic came from PPC, but the conversion rate from this channel more than tripled, to 5.5%.
Their sources of traffic and conversion by channel can be seen in the chart below: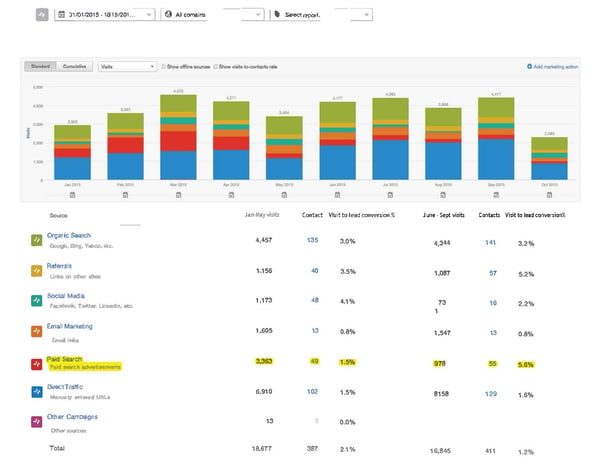 3 Lessons For Growing Businesses to Improve Paid Search Results
Here are three lessons we can extrapolate from this experience to help you to improve your digital marketing results:
Lesson #1: Cast a broad net first to yield a more efficient PPC approach later
As shown above, by initially casting a broad net with PPC, the conversion from website visit-to-lead hovered around one percent. Of course, we got tons of traffic at a cost of $3500/month. But the low conversion rate sent us racing to explore better efficiencies.
After uncovering the best search terms, we eliminated those Ad Groups and search terms that didn't perform against our goals. We replaced our roller brush approach with a fine point pen, focusing on high value, long tail keywords that helped qualify those who click.
By beginning with PPC, we got in the game quickly. While waiting for other channels to kick in, we learned what works - what people were searching for, which keywords converted well and which landing pages produced the highest lead quality - and used that knowledge in other channels to create a more efficient marketing program overall.
Lesson #2: Follow phase 1 learning with a sharpened phase 2 goal
The key to all this is staying focused on a specific goal. For our client, it was to rank competitively against a specific set of keywords.
After refining Ad Groups and search terms, the PPC-sourced traffic slowed significantly; but, the conversion of our paid program increased to a nice, healthy number (between 5-7 percent). Better yet, we learned which search terms drive traffic, and put this knowledge to good use.
Once we had supporting data on what worked in phase 1, we were able to test different cost-per-click bids, and monthly budget levels, to note where the trends settled. After a healthy trajectory, results flattened out; we were able to define a point after which additional PPC spending might be wasteful.
Lesson #3: Paid search can't stand alone - blogging and social media still drive traffic health
Improving the quality and relevance of ads can work, as described in the Times article, but the author makes us read all the way through before he illuminates the solution: blogging and social media drive relevance for keywords, which in turn reinforce the relative power of those words in ads.
Don't miss the secret sauce in this equation: you must blog and share via social media to build organic and referral traffic. Google considers social proof in their search algorithm, and it's essential to develop emphasis and interest for those keywords that support your product or service.
With this client example, we see that it took ALL of these approaches working in tandem to grow the business.
H

ow does

PPC

fit into your growth strategy?

We all know that there has to be a financial justification for marketing initiatives. We have to ask hard questions about how long it will take for organic, inbound, and paid traffic to payout.

So, back to the discussion of paid advertising vs. inbound marketing:
PPC is just another tool in your inbound marketing toolbox to help you reach the right customers in a cost-effective way. Rather than using paid ads as the sole driver of marketing results, use it to ignite and complement your overall digital approach.


An integrated

marketing program is usually best

, with each channel (website, social, PPC, email) doing its share to drive leads. Use

PPC to sharpen your understanding of search terms you can use across these channels to reinforce your value to web searchers in your category, and to search engines. This helps create

a more effective digital marketing program across the board.




Use the right tools to measure success. Assess what portion of new business leads can and should come from each web channel, and optimize each for better results.
It helps to begin thinking about this from a P&L perspective - cash out and its relationship to leads in - for each channel and campaign as next year's marketing plans start to develop.
Are you planning for 2018? Contact us for a Whiteboard Consultation for fresh thinking about how to use marketing to help reach next year's goals.