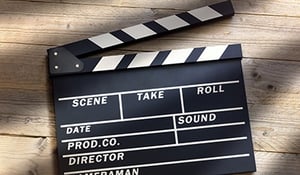 I have a secret.
Well, it's not really a secret, at least not after sharing this blog with you. Let's start with some backstory…
A Marketer—Not A Star—Is Born
Just under twelve years ago, I moved to Los Angeles to dip my toe in the (sometimes) shark-infested waters of the entertainment industry. I was gung-ho and a go-getter upon landing in Hollywood. My naiveté kept me motivated initially, and my dogged determination to educate myself on the inner workings of this industry took over when that innocence was gone. I made some progress in both the acting and writing arenas, taking meetings with production companies to pitch the sitcom pilots my writing partners and I had worked so long on.
Fast forward to a few years ago when, well, I just couldn't. I'm not a quitter, but it was time to focus on furthering my career outside of entertainment. I say all this is a "secret," because I rarely share my actor self with those in my professional life.
Skip again to May 2017, when I was provided the chance to work with Ilene and all the fabulous folks here at White Space. I've mentioned before that I'm more of a writer than a marketer, but I'm also an fervent learner.
What an invaluable lesson the past 16-plus months have given me in this thing called marketing.
Art Imitating Industry
When an "acting" opportunity arose a few weeks ago, and I submitted, auditioned, booked, and shot a commercial for Ford Motor Company, I had an entirely new view of how I fit into a larger marketing strategy. I'd honestly never appreciated it that way before, and I think I was better prepared for—and much more confident in—stepping into my specific role, thanks to my White Space education.
I now know just how much a marketing asset is a living, breathing entity
And, knowing that I was just a tiny cog in the wheel of this giant process helped me temper my disappointment when I didn't make the 30-second TV spot (cut from the longer Internet version). I now know just how much a marketing asset is a living, breathing entity that goes through ups, downs, and sideways swerves until it lands on the page, the billboard, the airwaves, or the small screen.
Moving Parts Make 'Money Moves'
The agency who pitched the Ford spot likely had its own vision, as did the director, cinematographer, editor, and finally the media buyer. The commercial was a "feel good" theme for Labor Day, entitled "The Hardest Working Person I Know." Great spot. Heartwarming. All the feels. But, in the end, it didn't do so well when matched up against all the "Sale, Sale, Sale!" ads running that weekend. Where it started was likely not where it ended, but that's all part of the deal.
As marketers, we know this. It's just not always easy to swallow.
Not Everything Goes According To Plan… So Then What?
I've told you all of that so I can tell you this.
Even though the spot didn't become the national platform I'd hoped it would be, this whole experience made me even more cognizant of one of White Space's greatest strengths—as a company and as individual team members: We are nimble.
We not only handle curveballs, we knock them out of the park on the regular. Sure, there may be times when that disappointment seeps in after what seemed a brilliant idea morphs into something almost unrecognizable; that's just human nature. But, the graceful agility with which we navigate a project from start to finish, no matter the size, is what makes us truly unique.
I kept my secret for what I thought was a good reason. I now know the value in each of us bringing our past experience, our expertise, and our unique perspective to the table—so that we can all do more, together.