"A brand is more than just a tagline."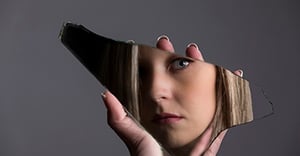 Any savvy marketer would say, "Well, duh." It's a mistake to think your brand "is" an attribute, like a logo, product/service, or a name—even though certain brands garner great recognition and respect based on name alone (e.g. Apple). Unfortunately, it still happens and is one of the missteps Darren Gurr discusses in his article, "The 5 Enemies to Building a Relevant Brand."
That said, you can't build your brand without all of those individual components. The tricky part is how you come to sync them all together into one holistic representation of your company—or what Gurr refers to as the "complete experience associated with your company."
Your brand isn't just for you
His choice of words is important, because it brings in the audience factor. Your brand isn't just for you. It, and your core values, have to resonate with prospects, leads, and customers/clients in order to make a positive impact—which is something I have become hypervigilant of in the last few months.
Let me explain why.
Value Prop: Getting To The Heart Of The Matter
Prior to working at White Space, the idea of "marketing" was quite foreign to me. Even though I worked within a marketing department years ago, I was such a small blip on that corporation's radar and my job responsibilities were focused more on writing and editing than anything else.
Fast forward to my time here, where I've not only had the benefit of being a front-row observer to the ins and outs of a marketing firm's daily operations, but I've been fortunate enough to be an active participant. The last few months have been particularly helpful for me to truly understand just how crucial authenticity is for brands to effectively connect to—and communicate with—their audiences.
We never could have arrived at that point without rolling up our sleeves and doing the work
Those months were spent partaking in value proposition exercises, building client personas, brainstorming taglines, and having all of that work culminate in a value prop that our White Space captain Ilene described as "language which reflects our heart and soul."
Authenticity Is Rooted In Shared Values
We never could have arrived at that point without rolling up our sleeves and doing the work—and also not accepting a value prop that was close but not quite right. As Gurr states, "Customers are able to sniff out shallow brands quite quickly." Your company may be the furthest thing from shallow, but until you connect with clients or prospects on a "shared value" level, it could be perceived as such.
One way to achieve that is to dedicate time to creating those client personas. For B2B companies, that includes crafting a persona for the client as a whole company but also the key players (e.g. decision maker, buyer, and day-to-day liaison). By performing this exercise, you uncover those shared values—thus strengthening both brand awareness and client relationships. You may even learn something new about your own company in the process.
In the end, while a brand is more than a tagline, or a logo, or a color palette, you can never underestimate the power each has in representing the product you sell or the service you provide.