Yesterday?
As the catalyst for growth in your company, it falls on you to align your growth goals with cash flow and investment needs.
Let's face it: Your P&L and profitability projections rule the roost as they should!
Tension around these decisions can get real, real fast. Decision-making is stressful, and clear answers are hiding under mixed priorities and conflicting needs. Like these:
> Should we revamp messaging on a two-year-old website, or update the software that serves your customers?
> Is it better to market to your core audience to shore up retention?
> Or - what's the risk/reward equation when you allocate resources to a new but untested audience?
> You got a pitch for a new shiny piece of Martech… it could work, couldn't it?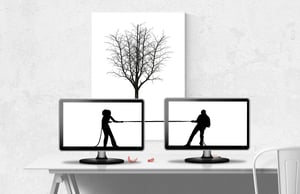 Facing off on these choices can bring on trial-and-error tactics that waste money, decision flip-flops that waste time, and a blind eye to the long view.
When we commit to a roadmap that has a beginning, a middle, and an end, we get less post-purchase dissonance, built-in metrics that help us be patient, and better long term learning.
Let's get off the carousel 🎠.
Do the work, define the strategies, build a plan, and get moving.
When you're ready, apply for a spot in the 90-day Marketing Strategy Lab for Small Business