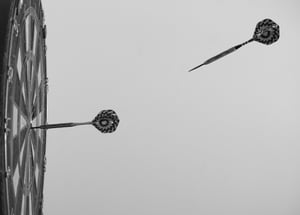 Technology is changing the way we look at--and proceed with--sales. Sometimes, we rely heavily on technology and its predictive capabilities, especially in the beginning stages. The good news is that over half of organizations are using sales tech to effectively accomplish the following:
Social selling (57%)

Lead gen (57%)

Activity management and tracking (56%)
The surprising news is that the following core intelligence aspects of sales tech are underutilized:
Predictive lead scoring (35%)

Prospect engagement and management (35%)

Customer success management (31%)
These data points suggest that sales tech is used in the early stages of the sales process, but then abandoned as the process progresses. This is startling, since this is where insights and value lie. Money left on the table happens here.
Where the Breakdown Occurs
Since we work with sales teams all the time, we can understand how this happens. Management gets its endorphin high when leads come in at the top of the funnel; then, progress is deemed the responsibility of the sales person. After all, people buy from people, not companies.
But, the insights that lead scoring and customer success management yield help organizations understand gaps in selling processes--and even in product offerings.
"People buy from people, not companies."
Those valuable insights come from analyzing data, which tells a factual narrative--not an estimated one. It's not enough to pair the concepts of "tech" and "data" simply because the first produces the latter. By eliminating bias, intuition, and false assumptions, data-driven decision making via tech intelligence optimizes the strategy of the sales process.
Using sales tech is an effective way to get leads, but its potential doesn't stop there. Want to get an expert's inside look at the importance of data-driven marketing decisions? The Miller Helman Group research delivers some instructive data here.