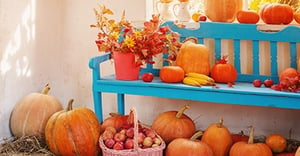 I hate to admit this, but I'm a sucker for seasonal decor. To give you an idea just how much I enjoy seasonal transitions, I started planning for fall decorating at the beginning of September—as soon as summer's shadow had barely passed. I bought a few more pumpkins, a couple throw pillows, and (surprise!) yet another faux fur throw to add to my collection.
We don't buy anything unless we want change
Some might call my haul a frivolous purchase. However, at the time, I felt it was necessary. I mean, four bins already labeled "fall décor" in my garage just isn't enough. To be fair, I'd received a promotional email from Pier1 for 15 percent off my items (including sale items), so at least I was being a cost-conscious shopper.

A couple weeks later, thanks to Hurricane Florence, I was stuck inside with plenty of time to commence decorating. As I was opening a bin labeled "Pumpkins and Fall Planters" I realized I didn't really need to buy those items; the extra pumpkins and pillows. So, why did I?
Then it occurred to me, "We don't buy anything unless we want change." That's a quote I took away from a session I attended at INBOUND about how to create value in your email marketing messaging. In my case, the change I desired was to shake up my usual neutral autumn color scheme.
Problem Centric Selling Puts the Customer First
Offering a solution without first identifying a problem doesn't work
As marketers, we need to focus on where buyers are now and where they are going. The value of your product or service lies between their current and future states.
According to Jim Keenan, CEO of Sales Guy Inc. and INBOUND presenter of "Problem-Centric Selling: Why No One Gives a Shit About You or Your Company," most sales people start by addressing a buyer's future state. But, if you don't know the buyer's current state, or you ignore it, you're missing the divide. There's no opportunity to compare and contrast. As a result, you fail to convey the value of your product/service and diminish overall brand value in the process.
Keenan also says that in order to effectively convey that value, you need to be a "problem finder." Uncover the buyer's problem, then offer a solution. Extending a solution without first identifying a problem just doesn't work. This is why "problem-centric selling" and is a necessary step for putting your customers first and one of the chief principles of successful marketing.
Understanding the Buyer's Impetus to Buy
Marketing and sales is not just about selling benefits
As marketers, oftentimes we are so deep into improving a product/service and keeping up with the competition that it can be challenging to step back and take a look from different perspectives; namely, the buyer's. Marketing and sales is not just about selling benefits within your purview. It's also understanding what the buyer's impetus is for seeking solutions. Only then can you truly identify—and match—the right solution with the right problem.
In my "decorator's dilemma," I became a perfect representation of this. Sure, I wasn't required to purchase more pumpkins or throw pillows to complete my fall transition, but the email I received addressed the problem I had (me desiring a change in my tired fall decor) and ultimately convinced me of brand value by offering a solution (a further discount not just on sale items, but items I actually wanted).
Please tell me I'm not the only person who gets sucked into a good discount.