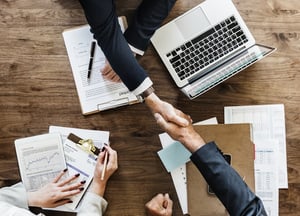 Onboarding new business partners can be a royal pain... for both the onboarders and the onboardees.
With so much information to impart, it's difficult to strike a balance between being thorough and downright mind-numbing.
But, it recently occurred to me that onboarding is a lot like marketing. You need to:
Prioritize based on customer needs
Address the pain points they've experienced in the past (where to find resources, assets, latest versions, status updates)
Give your new clients or customers a way to answer a question without talking to you
Simplify! You can always dig into the details later, once everyone is settled
We don't have a unique tool or software to do this. The platform we currently use is Teamwork, but I'm sure any project management software can be adapted to do the same. Like all solutions, you need to take the tool and reshape it for your audience.
Adapting PM Solutions to Meet Unique Client Needs
Here's an example of how we shaped our internal processes to serve our new client…
Onboarding is a lot like marketing.
We are using the simple, relatable, and easy-to-use system we have built internally. Our project management extraordinaire Annette walked the client through the client's unique Teamwork portal, which she organized based on this particular client's most pressing needs, wants, and goals. Our expertise in creating solution-focused strategies played a big part in both adapting the portal and how Annette presented it.
Navigation Rooted in a Client-Focused Approach
By the end of our meeting, the client was offering to import data, assets, and files into our system. Her past experience with project management tools set the stage; our system made it simple and painless.
That's what we call a win-win scenario.
But, even if another client isn't as skilled with PM, the system's foundation in both a client-focused and common sense approach makes it easy to navigate.
If the absence of onboarding pain is a win, then this is what we call a win-win!
P.S. If you'd like to take a peek at our system let me know.