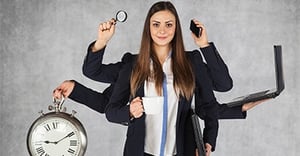 As a marketing agency, we are infinitely aware of the value our services hold. That's not meant to be boastful or self-serving, it's simply the core of what we do. A company who sells widgets is an expert in that item. We may not know how to manufacture it, but we do have the expertise to help get it sold.
Now, that company may already have an in-house marketing department. Why would they—or should they—work with us? Because of these two most important (and yes, non-sexy) reasons: time and money.
Why Staffing Marketing Internally Stinks
Hiring internally is almost always a pain in the ass. Finding that one perfect person who can cover all the functions of the job—and fit into company culture—can seem like finding a needle in a haystack. Posting the job is just the beginning of this arduous task. The journey to hire involves hundreds of resumes you must weed through, conducting interviews, narrowing the pool of candidates, performing all the necessary reference checks, and then finally choosing your "winner," who may or may not accept the offer.
Hiring internally is almost always a pain in the ass.
Getting referrals from friends and colleagues is a little better, but it's still time-consuming and there's potential for unpleasant situations. Headhunters and staffing firms will do the work for you, but they're not cheap. The struggle is real: fast, good, and cheap, pick any two.
One "Hire" Nets an Entire Team of Experts
When you hire a marketing agency, it is one hire—just one—that essentially nets you a team of people guaranteed to deliver on what they say they can. Very often, clear KPIs and employee expectations aren't articulated as specifically as they are with an agency. The pressure of the employee "review" is eliminated, because the opportunity to examine performance and tweak strategy has been identified up front.
There is no tactic we execute that does not ladder up to a specific strategy.
Another agency objective that is rare for an employee to meet is to provide deep analytics to justify marketing spend. There is no tactic we execute that does not ladder up to a specific strategy, and no strategy that we create that does not specifically map to a goal. It's not only best practice, it's the only true way to show the financial incentives of partnering with a good agency.
There is also no annoying paperwork like tax forms (don't need 'em), or benefits forms (don't need these either), and, of course, the onboarding of new employees. An agency is adept at onboarding—we practically onboard ourselves—via a process that has been refined to fit each client's unique needs.
Is Any Project Too Small?
Some companies might argue that those seemingly teeny, tiny marketing needs can be just as effectively done in-house. For example, why spend the money to outsource an internal company communication? It's not like it's going out to customers, right?
I would argue that any project, no matter how insignificant it is perceived to be, is worth the time and money if there is a return on that investment. If an otherwise healthy organization is stagnant—or worse, declining—because of an internal communication problem, it sure sounds like it makes sense to fix the problem instead of closing the company. Since inertia is not an actual solution, you can go one of two ways: hire someone internally to fix the problem or hire someone externally to fix the problem.
Since there is a clear goal and the problem is well defined, the likely source of why this hasn't already been solved by someone internally is bandwidth. A large company with lots of money might hire someone to handle internal communications long term—establish the program, maintain it, and perhaps even take on other miscellaneous responsibilities lying around.
But, another company might not want to invest long term in an employee. They might be well staffed, but no one really wants to take ownership of an internal communications program—which just keeps the snowball rolling. That's an ideal project for an agency to manage long term, or until that marketing department wants to expand.
Seamless Collaboration
One additional barrier companies could perceive as problematic is, "If we hire an outside agency, how can we ensure our team will effectively communicate and work with their team to ensure alignment?" The answer is pretty simple—and something we excel at—project management.
We rely on a project manager to put together a kick-off meeting, where we clearly define and assign roles and responsibilities. The output from that meeting is a timeline, so all parties know when work is coming in and when it is due. This process also ensures the project is kept on budget, guaranteeing the client is satisfied every step of the way.
At the end of the day, it's really a win-win scenario for all involved… don't you think?