For startups and growing companies, marketing agencies offer an effective and affordable alternative to bringing aboard full-time team members.
Why does this relationship work so well?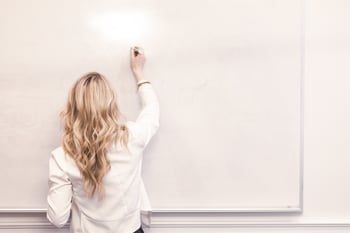 Typically, a marketing agency will bring a specific set of skills to help supercharge the team's efforts in a given area. Whether looking to improve content marketing and SEO initiatives, enhance the ability to expand reach via PPC ads, or flesh out branding overall, the right agency can be just what a startup needs to begin scaling the business.
That is, as long as these agencies truly understand the organization's growth plan for the future.
This isn't always the case.
Plan on Paper vs. Plan in Action
It's not uncommon for a marketing agency to have all the answers "on paper" and still fail to deliver the solutions that a specific team needs at a specific point in time. Yes, the agency may help solve the surface-level marketing issues at hand—but they ultimately don't do all that much to bring a CEO's vision to reality.


The agency isn't necessarily at fault. Rather, the disconnect often occurs because there's an artificial divide between marketing activities and tactics and the vision of its leaders. This can cause an agency to miss the mark when putting the plan into action.

How can you ensure your marketing agency's efforts align with your company's growth strategy?
1) Stay Focused on Delivering Value
Most often, the reason you're considering working with an agency revolves around an internal need. For example, a lack of:
manpower and other resources
knowledge, expertise, or ability
focus or direction
Getting honest about these needs means you'll be crystal clear about how a partner agency can fill in the gaps in your organization. It's crucial to define the specific skills you need to add to your internal team so you can move from strategy to execution.
2) Map Your Organizational Vision to Your Marketing Goals
Before you even start looking for a marketing agency to work with, it's crucial to clarify two things within your organization.
First, do you actually have a definitive, comprehensive strategy in place? If YOU don't have a fully-outlined strategy, you won't be able to effectively communicate it to your partner agencies.
How are you currently struggling to communicate your value to prospects?
How will you differentiate your brand value from the competition?
In meeting your marketing goals, what's the impact on your P&L?
How much time and resources do you have to let marketing do the job you've hired it to do?
Next, you'll also need to define the immediate marketing needs that will deliver on your strategic plan in the next 12-18 months, as well as the long-term goals you have for your business. Because many marketing agencies are so "specialized," this is necessary to ensure you find the partners that are right for your team.
The key elements to consider include:
The most productive audience segmentation, so you can determine the right messaging and channels to reach them
How you aim to position your organization within your industry
The value you're looking to add to the broader community as a whole
Think of this information as your "true north," in that it will guide your team's every step along your journey to success.
3) Align Agency Strengths With Your Most Pressing Needs
You'd be hard-pressed to find an agency that truly is a master of all areas of marketing, and that serves companies of all shapes and sizes. That said, you'll need to focus on identifying the agency that's expertly prepared to build out specific tactics that you've predetermined to align with your growth strategies.
"Think of this information as your true north."
For example, if you're focused on nurturing a large list of leads who aren't moving down the funnel fast enough, do you have the right team to develop compelling content across a wide range of formats-- including written content, video, trainings, or events?
Or, if you're looking to expand reach to new audiences, is your agency up to date on the nuances in paid advertising, including changes on social platforms, programmatic media, or sponsored events?
4) Be Cautious About Referrals
Referrals drive the connections we make. A great referral gets you over the hurdles of trust and integrity. But, when selecting outside service providers, real success lies in choosing the right type of service you need over a soundly referred provider. Even the strongest referrals may not actually have the expertise your strategy requires.
5) Be Realistic About What You Can Do Now (and What Can Wait)
In an ideal scenario, your team would be able to be wherever your customers need, with whatever content, offer, or experience they need to progress in their journey with your brand. This is very rarely a reality. Even when partnering with an agency (or multiple agencies), your team likely won't be able to do it all.
The next best thing, then, is knowing which route to take to a) deliver maximum value to your audience, and b) maximize revenues for your business.
If your partner agencies don't have your priority business goals top-of-mind, they may come to the table with grandiose ideas that end up doing more harm than good. By stretching your budget (and team) too thin from the get-go, it will become even more difficult to deliver value to your customers.
Instead, make sure your agency knows to focus on the marketing initiatives that will move the needle for your business—and that will allow you to invest even better into the future.
Build Your Marketing Strategy Before You Hire an Agency
The right marketing agency certainly can help bring your company to new heights.
The key word is "help."
While an agency will step in at the right moments to get things moving in the right direction, it's up to you to determine what this "right direction" is in the first place. Before you even start looking for an agency to partner up with, you need to have a solid idea of both your marketing and business goals.