Creative minds often make abstract interpretations of left-brain concepts. The analytic brain understands that 1+1+1=3, but the artistic one might say… "Does it, really?"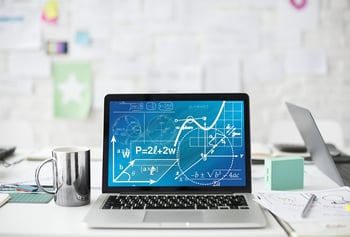 When founders and business owners look at this equation from a marketing perspective, they don't see a cut-and-dry answer. Adding up a collection of marketing tactics doesn't mean they'll arrive at a definitive "sum" of success.
For example, you can have:
A rockstar SEO advisor
The latest, greatest MarTech solution
A top-level website designer
Copy-writing extraordinaire
Does each operate on its own? How does each contribute to a complete business strategy?
The exponential value of each tactic can be realized when it's delivered as part of a focused, planning process. While it's tempting to lean on Random Acts of Marketing for results, we may ignore the lift we'll see when we connect them as "parts of a whole."
Many of the CEOs and other business leaders who participated in the Marketing Strategy Lab have that critical "ah ha!" moment when they see the new math.
A CEO Case in Point: Michael
Meet CEO, Michael.
He's a gregarious guy, and he knows a lot of people. He's one of those types who networks effortlessly (unlike others of us who find networking to be a difficult part-time job).
At the center of Michael's approach to marketing are two core traits: likability and trust. If Michael sees both in you, chances are he'll hire you for marketing services.
And, he has… He's met a ton of smart marketing and business people throughout his tenure as CEO (and long before)--just like the ones mentioned above. They came highly recommended by colleagues, peers, and even competitors.
I've met these people, too. They truly are the best in the business.
So, what's the problem? Why wasn't Michael achieving his business goals?
Michael's "Ah Ha!" Moment
When we met in the Strategy Lab, Michael was particularly focused on SEO. So much so that he considered it, by itself, a strategy.
After working through Michael's growth goals, and the marketing he had invested in thus far (which wasn't moving the needle), Michael realized he was buying a team, not a strategy.
While all his page titles and meta descriptions were optimized, his website was missing a key element: engagement opportunities.
"How does each contribute to a complete business strategy?"
So, while search engines found his site when visitors arrived, they were bombarded with tons of long-form content, but no clear path to action. Unless they had a long coffee break with no other demands, a site visitor wouldn't really know what to do next. Awareness was achieved, but the next steps were blurry.


Michael needed a channel-agnostic approach to delivering on his goals, not a single-step solution. Now, we knew he couldn't afford to support every marketing opportunity, but he could afford to add some simple elements to simplify the visitor journey and capture the interest.

He was able to take his SEO success, and enhance it with more content marketing and a few simple website elements, and his 1+1 now equaled 3.
What's the Elephant in YOUR Boardroom?
Whether it's SEO, paid channels, a website redesign, or anything else, no one tactic can make up for ignoring the elephant in the boardroom: missing a marketing strategy that you really believe in; one that connects the dots and works within efficient budgeting parameters.
In Michael's case, the learning from the Lab ultimately added up to an SEO upgrade (his initial focus) along with a messaging revamp, repurposing some of his existing content, and landing page improvements that gave him the lift he demanded.
If you're ready to move from a set of one-off tactics to a marketing roadmap you can commit to--and believe in--the Strategy Lab is waiting for you. For more information, you can:
Looking forward to seeing you in the Lab!