Students of improvisation are very familiar with the concept of "Yes, and..." If your scene partner sets the environment as a cruise ship and passes the baton to you, you can't say, "No, remember, we're on the moon." You go with the bit, and help your fellow actors create the story.
But, marketing should never feel as "spontaneous" as improv appears.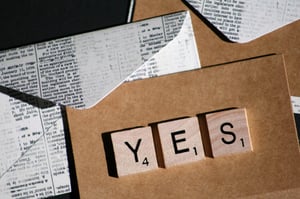 In the Strategy Lab, I meet with a lot of CEOs who are all too used to saying, "Yes, but..." They understand the value of marketing, yet efforts have proven unsuccessful. Even though they've bought into building their own "story," something has gone awry.
"Yes, we tried that Martech solution but it didn't pan out."
"Yes, we contracted with [several] marketing experts but are no closer to our goals."
"Yes, we tried using our internal resources but have gotten nowhere."
"Yes, we hired extra sales people but

we still haven't seen any revenue growth."
This is Where Trial Becomes the Error
With all those yes-buts, many business leaders end up not investing in marketing at all. They go from saying yes to some things to saying no to everything. It's limiting when evaluating why any one tactic didn't generate results--and it's too expensive to keep funding trial-and-error approaches.
The business leaders I work with know they need marketing; they do. But, when they get to me, they've reached a point where marketing has become a financial and personal burden.
Where's the gap? How do we focus marketing on specific business objectives?
How do we fill it? What are the tools that link business needs with the right marketing strategies?
For example, why didn't that Martech solution work? Did the vendor really understand what's missing in your business?
"Did the vendor really understand what's missing in your business?"
Tactical marketing experts may have pinpointed one or two pain points in your business, but were they able to take a holistic view of your marketing planning? There, you've landed yet another "Random Act of Marketing."
Or, maybe the tactics could actually contribute to business growth, but your internal team lacked systems, skills, or follow-through to evaluate and optimize.
Waste Not, Want Not
The Strategy Lab represents an opportunity to put a stop to wasteful marketing. Alongside the collective expertise of other Lab participants, we start to identify the cracks in marketing planning. In some ways, our formula for helping business leaders takes a page from improv's "yes, and" book.
"Yes, your internal assets are valuable, and we can help you find ways to use or repurpose them at minimal cost."
"Yes, paid channels can be effective, and we're going to thoroughly assess if it's right for your short-term goals."
"Yes, investing in sales will eventually be required, and that's something to put in your long-term strategy."
"Yes, we understand there's risk in marketing investment, and that's why we're here… to mitigate that risk."
Don't get me wrong… sometimes short-term tactics can be very effective in solving an immediate problem. The key is understanding the difference between random, sporadic, spontaneous spending and a discrete course of action that produces results, regardless of the timeframe.
Before you spend one penny more on ineffective tactics, let's build a roadmap that makes sense for your business--and that focuses marketing where you need it most. To get a better idea of what the Strategy Lab entails, check out this free training video.