One of the most common questions I get from CEOs and business leaders is, "How can I get unstuck on marketing decisions?"
These companies are usually fighting one of two battles:
Frozen in place—not making any decisions because they have no idea where to begin (or begin again).
Making ineffective marketing decisions; the infamous "random acts of marketing."
Often, the second is accompanied by fears relates to budget. "I've already spent the money to fund this X, Y, or Z marketing tactic, so I best just stick with it." But, clinging to past marketing decisions just because you spent time, money, or resources (or all three) isn't a strategy.
It's stagnation.
Are You Buying Marketing for the Sake of Marketing?
If you've ever played a game of chess—or seen everyone's new favorite Netflix joint, The Queen's Gambit—you know that one initial action holds the power to greatly influence subsequent actions. The first move is so critical in determining the outcome of the match.
The contest is nothing without that first move. It's also derailed if the move is made randomly, just to set the match in motion.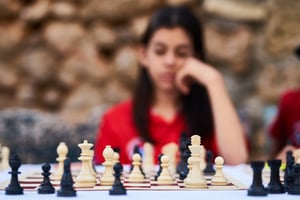 Unfortunately, many companies I know do this. They selected marketing for the sake of marketing.
They know they need it, so they choose whatever channel, or martech solution, or revamped website recommendation that seems to make the most sense—based on the advisement of various marketing experts.
As I've discussed previously, those experts aren't necessarily wrong. Nor do they have bad intentions. But, they are pitching from a perspective that is too narrow for the long view. This "in the moment" Band-Aid approach is not an appropriate solution for companies that need a more holistic marketing strategy.
4 Common Missteps that Obstruct Growth
In my role as part-time CMO, I'm able to take a bird's eye view to determine which chess piece belongs where, and in what order. I'll admit, in these scenarios, it's less about sheer intelligence and more about setting a pair of expert eyes on a challenge the marketing team has been staring at for a long time.
"The contest is nothing without that first move."
And, it's not that the work in place isn't "good" work; it's just been aimed at the wrong part of overall strategy… or, at the wrong time along the growth timeline.
Here are the most common missteps I encounter from my perch:
Spending marketing dollars on paid channels before testing organic or owned approaches

Trying to do too much

with limited budgets
Instituting technology without understanding its full value in fulfilling growth objectives
Resisting change even when results are tepid
It takes leadership to take a step back and examine the maze of marketing activity--and then line up the pieces where they belong. Even short-term business goals require this approach in order to avoid those pesky random acts of marketing that take the business nowhere.
Does your company have a view from the outside that helps optimize your marketing strategy?
Here's how I can help:
Set up time

to discuss your goals. We'll know quickly if a view from outside your organization can help.
Join the Marketing Strategy Lab to develop a strategy and a plan you can commit to.
Work with me as a fractional CMO to bring objective, strategic order to your marketing investments.