Answering a question with a question may be annoying, that's how the best advisors add value.
It's certainly how marketing professionals define exactly what's needed to get a marketing strategy in place. Recently, I wrestled with a question around the skills of one of our outsourced providers. I have to say, I was stumped.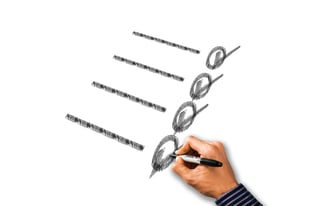 I know they're experts in their field. They stay on top of those surprise changes in Google's algorithm, they have insights from other industries, and they keep me honest when I come up with an outside-the-box idea.
But, here's what they aren't positioned to do: ask unexpected questions.
I do that. It's super annoying to my favorite partners, but they know that's where the fun starts. (They've even confessed to using my probes as part of their own internal checklists, which makes me super happy…)
Check, Check, 1-2-3
Here are the questions I've posed in a recent Marketing Air-Cover newsletter on Linkedin to help businesses get a marketing strategy in place:
How do you decide which opportunity audience is worth the marketing spend? I know you love them all—and are poised to serve each segment well. But, when it comes to marketing investment, where are you going to put dollars to the task?
Do you always need brand new content? I know this is a pain point for small businesses that struggle with consistency in content development. Often, they truly believe the CEO will write her own, but she has a big day job, and crafting messaging isn't first on her list. So… What's your plan for developing content once, and repurposing it across multiple channels?
I have to say, I was stumped.
How compelling are your engagement prompts? If you only pose "Get In Touch," or "Contact Us," how's that going? Donald Miller of Storybrand fame likes to say: "Who really wants to 'get in touch? Who has tons of time to 'learn more?'"
Do you have a marketing program that works against attrition by nurturing your current customer base? Don't forget to repurpose some of that high-value content to those who've already chosen to work with you (some of mine are reading this, so they know what I mean!)
How do you establish forecasting metrics based on your marketing activity? If you've had a lot of marketing activity in place, you have those metrics. But what if you don't? How can you invest wisely in testing before you throw resources at an unproven channel?
How realistic is your timeline for marketing-generated results? I know we're all impatient. If that's you, be prepared to invest in channels that will give you a quick win. But, where dollars are limited, please acknowledge how long it takes for organic initiatives to gain traction.
I drill down further on all of this in the LinkedIn newsletter. I spend a lot of time sharing insights in our newsletter, so everyone can get the "air cover" they need.
Plus, you can always check out these other resources:
You can find more about the Marketing Strategy Lab for small businesses here.
Learn more about hiring a fractional CMO here.