We're in the thick of "prediction time," otherwise known as that two-month stretch in December and January. Every marketing subject matter expert, trade publication, and consultancy weighs in on what they think will be the most important trends for our industry in the year ahead.
For me, these perspectives present a double-edged sword. On the one hand, it's never a bad idea to take a look at what your peers deem the most impactful actions for us to consider in the new year–whether you agree or not. On the other hand, these observed "truths" can create an environment where even the most seasoned, seen-it-all marketing professionals start second-guessing their strategies if they're not incorporating all of these trends.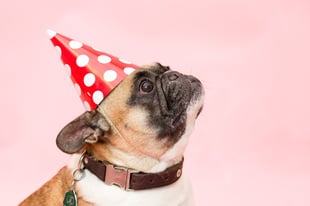 Don't get me wrong: I'm all about the cool stuff and its ability to connect us with customers in an inclusive and intentional way. The increase in VR- and AI-based apps and tools, the beginning of voice search for SEO optimization, and the rise of conversational marketing are what I find especially interesting as we kick off 2023.
However, if you don't firm up your knowledge of the marketing basics–and find that blend of the new and now–it will be tough to use marketing to drive growth and revenue. And that's my biggest concern.
This year, especially, we're going to be marketing through some "unprecedented times": trying to find our way in a cookie-less world.
The Era of Cookie Cutting
In a recent report by Gartner, "shifting customer behaviors increasing uncertainty" was identified as one of the trends most affecting marketing leaders in 2023. What was one of the big observations? Customers are withholding personal data and opting out or self-managing acceptable tracking specific cookies, brand by brand.
For me, these perspectives present a double-edged sword.
After nearly 30 years of showing up to a prospect's party uninvited by relying on third-party cookies for digital marketing personalization, attribution, and performance tracking, the cookie era in marketing is coming to an end.
While the timeline for full "cookie deprecation" is a moving target, many web browsers and websites have already started to phase out cookies, giving customers much more control over their privacy and security. Your prospects are now in the driver's seat, and they can opt-out of cookies fully, or be very intentional about which cookies they'll allow to track them. Google is also expected to phase out cookies on Chrome by the second half of next year.
If that seems like a long time from now, it isn't. And what we'll experience is a fragmented landscape that, according to Gartner VP Analyst Andrew Frank, will cause some learning experiences for an organization's marketing teams. Among them, Frank says, is the increased difficulty in brands establishing loyal relationships with consumers, and the challenges in establishing the effectiveness of ad campaigns.
Even Marketers Like Privacy
As a human being and a marketer, I've always been conflicted about third-party data. From a personal perspective, I appreciate the convenience. Isn't it nice when my pre-filled address forms are set to go on a brand's website? Cookies are responsible for that time-saver.
I also appreciate the personalization and the relevance factor. I like being shown related products, videos, and articles I might be interested in. No one wants to waste time with ads for products or services that have little to do with what I actually need or want.
But, I'll also admit that it's annoying to log into Nordstrom, search for dresses for my niece's wedding, leave the website, and get targeted on Facebook and Instagram for days on end with the dresses I left in my virtual shopping cart. That's the kind of personalization that just feels… icky. And now, visitors to websites have a choice. They can accept or reject the cookies on a site, or manage their experience and only accept certain cookies.

Marketers do like privacy. Most of us sincerely respect the privacy and security of a prospect or customer's personal information because it also means we have that same privacy for ourselves. All the same, not relying on third-party data will be a shift for many of us. Before we had access to this kind of data, it was all we hoped for. When we had it, we always knew there was so much more we could be doing with it. And now that we may not have it–or have less of it than before–what do we do instead?
Enter: First-Party Data
Turns out, we've always had the answer. The way to get around the "death of the cookie" is to ensure your marketing actions make it possible for you to acquire first-party data: email addresses, social media data, customer insights from your CRM, etc.
Here's the hitch: we're also in a time of "zero-click" content. Customers and prospects are not looking to click away from where they currently are–their LinkedIn page, their Instagram feed–to take the usual marketing actions required to give brands their email addresses. Zero-click content offers valuable, standalone insights directly in a particular platform, so there's no need to go anywhere else–including to a brand's website.
That's the kind of personalization that just feels… icky.
It's everything we were told not to do in Marketing 101, and yet it's also a way to build trust with your audience. In the words of SparkToro's Amanda Natividad, it's about "giving the juiciest information upfront, earning engagement so the algorithm rewards your post, and building enough goodwill that your audience seeks you out later and takes the steps to get to your website, where other valuable content awaits.
However, zero-click isn't the answer for everything. There are specific times when you'll want to give your customers and prospects insights in a more direct way, and that's why email is still the ultimate first-party data source. In a perfect world, you have an email address that an actual human provided to you–and an email they actually check and use–and your database is full of people you're able to communicate with because they actually want to hear from you. Imagine that!
Get Invited to the Party
As much of a learning curve as it might be to reduce our dependence on third-party cookies, it's also an opportunity for brands to create more meaningful and relevant insights and thinking for customers that they truly want to consume.

That's the difference between receiving an invite to the dinner party–and showing up uninvited with stale cookies.
See our YouTube channel, Marketing Air-Cover, for additional guidance on marketing strategy for small businesses.
Learn more about hiring a fractional CMO here.