Everyone's pretty nervous about the disappearing cookies. Even though the timeline has been extended until "late 2023," we all know how that can seem like the blink of an eye. Plus, pro-privacy actions have already been taking place in the iOS and Android universes.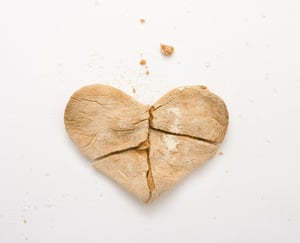 Some companies have made great strides in preparation. Direct-to-Consumer (DTC) brands that rely on third-party tracking to broaden their reach are working smarter to manage the undoing of the retargeting channel they've relied on for years.
So, my B2B brothers and sisters: let's see what we can learn from them.
Step 1: Growing Your First-Party Connections
Everyone is moaning about the future of DTC brands that are so reliant on third-party tracking in the social channels to expand reach and offer multiple opportunities to engage. Take your average "Instagram" brand and get empathetic. They rely so heavily on third-party tracking that you have to wonder how they'll survive this.
But, DTC brands have certain advantages that B2B businesses do not.
For starters, they have built hefty prospect databases through their remarketing and retargeting to date. So, today, they have first-party prospect data they can nurture—and customer data they can retain. No, it won't be easy, but I can see how innovations in engagement, customer service, and new products will expand as DTC brands hold tight to the "owned" reach they already have.
For so many B2B businesses, the road to building a reliable database of prospective customers is inefficient and costly (think: trade shows, event sponsorships, etc.). The burden of having to buy email access or pay for large organic campaigns is heavy. No shortcuts there.
When you reframe the value of an opted-in record in your CRM, you can see how growing this first-party connection—expanding the number of opted-in, information-qualified leads—will provide a foundation for your marketing as we move towards new and innovative methods of engagement.
Step 2: Consider Alternative Channels
There's another channel where our DTC pals are already leveraging marketing resources to expand the quality and depth of their reach: affiliate marketing.
The affiliate channel, while a pay-to-play environment, avoids third-party tracking as a reach tool. By definition, reach in affiliate is sourced from organic customer intent, authoritative publishers, and measurable return.
DTC brands have certain advantages that B2B businesses do not.
While DTC brands see success in the affiliate channel on revenue-based ROI, I can see B2B companies deploying budget toward affiliate marketing in order to expand their database of high-intent prospects. We're not talking coupons or discounts. Rather, think of access to the meaningful content you're probably already leveraging at those trade shows and on LinkedIn.
[Disclosure: one of my clients is an affiliate agency, so I've seen how the sausage is made, and the value it offers when you're with the right provider.]
Step 3: Don't Wait to Put Your Plan Into Motion
End of the day, there is an opportunity for B2B businesses to reinforce their marketing mix through new and improved channels for engagement. And, there are a number of ways to navigate such a transition: