If you happen to be married to a financial risk analyst, who moonlights as a historian, you have to turn an eye toward history in order to gain any perspective on what's happening today.
Here are a few of those tidbits, culled from a Forbes article from last year.
Yes, last year.
The article pointed to a series of economic slumps--starting nearly a century ago and following through to 2009's "great recession." Little did contributing author Brad Adgate know how relevant this discussion would become just half a year later.
Snapshots in Time
During the Great Depression, Post Cereal, the nominal category leader, significantly reduced ad spending. Kellogg doubled its spending, increased profitability by 30%, and became the category heavyweight.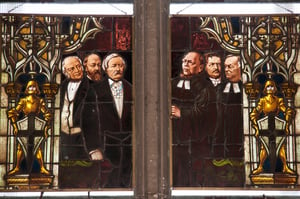 During the 1973-1975 oil crisis, the 17-month recession brought about the U.S.'s first miles-per-gallon report.
Toyota stuck with their long-term growth strategy, and overtook VW as the best selling foreign car by 1976.

In the 1990-1991 recession, McDonald's reduced marketing spend while Pizza Hut and Taco Bell filled the gap. Sales grew for Pizza Hut by 61%, Taco Bell by 40%, and McDonald's suffered a 28% drop in sales.
2009's sluggish economy was no barrier to Amazon's efforts. The company saw sales increase by 28%, largely in part due to new innovations like the Kindle e-reader and related products. Jeff Bezos never looked back…
Is It Worth Losing Share of Mind?
Obviously, old data doesn't guarantee success, particularly when no one can remember such a threatening and uncertain time in our own lifetimes. But given the historical trends, cutting back now almost solidifies a lost share of mind among consumers. And you know what that means: reduced sales now, lost sales in the future.
"You have to turn an eye toward history to gain perspective on what's happening today."
Alternatively, a steady investment in marketing spend--and a shift in messaging, should it be warranted--are two ways brands can maintain their presence in the market. Maybe even strengthen that presence.
It's time to buckle up for what's ahead, but not tighten that budgeting belt. The best move now is to look back for reference, and move ahead creatively.