It goes without saying, but it's worth reiterating: marketing is an ever-evolving business function. There is always a new tactic or technology to consider incorporating into your marketing efforts. I've referred to it before as the "new and shiny."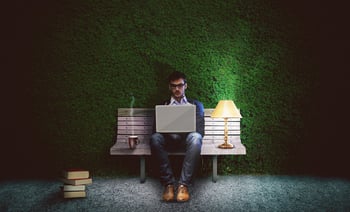 As CEOs, COOs, and CFOs diligently work to stay ahead of the curve and optimize the overall business strategy, in-house marketing professionals may struggle to fulfill all the needs of developing and executing a well-rounded marketing strategy.
Hiring others as marketing experts, consultants, or freelancers to assist—for the short or long-term—is one way to advance an organization's goals. However, business owners and leaders have some key decisions to make when enlisting external help.
Key Factors in Determining the Right Relationship
Using outside vendors is an effective way to engage with subject matter experts and recruit industry-specific (and cross-industry) intelligence from those outside of your organization. These marketing professionals bring a valuable and more objective perspective.
Enlisting an outside professional in this context, however, shouldn't only be about hiring "tactical" experts. Rather, they should encompass strategic guidance as well as implementation know-how. Admittedly, this is a challenge. Implementers are cost-effective, but they need strategic oversight.
Since there is no single approach to engaging external experts for your specific business needs, let's consider levels of intimacy you need to help determine the type and depth of a working relationship.
This might include:
1) Key responsibilities: The responsibilities of the role can range from high-level strategy to more detailed program planning. The best way to determine responsibilities is to create a "job description" for the role and then really define expectations. Be sure to include a reporting structure that holds accountability on your leadership team.
2) Duration: Engagements can be as simple as a single project or more complicated such as high-level strategic planning and implementation. Be clear about the desired timeline surrounding any projected goals.
3) Expertise: The level of expertise you need on your team is dependent on the KPIs you've established for your marketing team. It's fine to have the CEO accountable for marketing—as long as that's an area of wisdom and experience. If like many CEOs, you understand the value of marketing, but perhaps not the detailed implementation needs, it's best to have a strategic partner who can link the business expectations with clear marketing functions. This will help identify how a hire will be best utilized across the organization.
4) Integration: Marketing counsel from outsiders isn't based on skill alone. Consider the culture of your leadership team and their functional team members. It's often a good idea to remember who else in the organization will interface with this individual, and how that will all work with legacy staff and other new hires.
Based on these key components, C-suite executives can choose the level of intimacy that will make the most sense in achieving the marketing-specific objectives and overall business goals.
How Intimate Do You Want to Get?
There are essentially three levels of engagement—or intimacy. Each carries with it different roles, responsibilities, and expected outcomes.

C-Level: A C-level engagement with an expert or agency is a short-term commitment, with the least touches, resulting in a collaboratively-defined marketing strategy. For instance, a company may not need much more than a brainstorming session with a group of strategic-thinking marketers—just to "right the ship." This process includes learning about the business and its goals, asking the right questions, getting into the answers, and then helping to devise a comprehensive marketing strategy which the internal team will execute on their own.
B-Level: At the next level, an individual or team digs deeper into your company's existing marketing and reviews the overall marketing and business strategies. They provide insight into what is working, what isn't working, and the "why" behind both. This data-driven role should deliver a more refined, more detailed marketing strategy ready for execution by the in-house team. It may also include insight about competitors, other industries, or similar successful programs that produced results aligned with your company's goals.
A-Level: This is the most intimate level of engagement. Oftentimes, someone working with an organization in this capacity would be considered a "fractional" member of the C-Suite, with related responsibilities and accountability.
"Marketing is an ever-evolving business function."
Engagement here is high touch, longer-term, a cultural fit, and produces results on a strategic level. But, this relationship also involves driving and observing the implementation of the strategic plan and ongoing adjustments for efficacy.
The individual or agency offering A-level services often has past C-suite experience at a mid- or large-sized company. Typically, the expert becomes integrated into your business for at least 12 months.
This allows ample time to be engrossed in business building, offering the capacity to share concepts, provide examples, and test various tactical programs. Here, high-level messaging, channel strategies, and performance metrics are determined and shared by leadership.
Two Final Questions to Pinpoint the Appropriate Level of Marketing Intimacy
While the budget will factor into the intimacy decision, understanding which level will benefit your company and program is based on other components. To find the best fit and reap the rewards of an optimal engagement, address the following two questions:
What is the best option for leveling up existing marketing efforts?
Which option will provide the internal marketing team the guidance, confidence, and support to execute the plan?
Where can an outside hire simply deploy the strategies and programs developed by an existing leadership team that holds sophisticated marketing expertise?
Then, the next step is to identify resources and finalize an agreement with defined outcomes and milestones.
You Don't Have to Go It Alone
As much as business leaders would love to have an internal team of rockstars, that doesn't always happen—and not to their fault. They have plenty to look after on a daily basis.
So, it is at least worth considering ways to supplement marketing efforts through expert guidance and partnerships. If your company might benefit from an outside view, one that helps optimize your marketing strategy, here's how I can help:
Send your team to the Marketing Strategy Lab for training and coaching, that comes along with a library of strategy and implementation resources.
Engage me as a Fractional CMO consultant; Get air cover to uplevel your in-house and outsourced teams.
Talk to me about workshopping a marketing and strategy roadmap 1:1 with you and your team.