We all peek over the fence from time to time to see what the competition is up to, particularly in the B2B space. That's just a smart business strategy. But, there's a whole world out there beyond your backyard. You don't have to be boxed in by "industry standard" marketing strategies.
When you view growth through a different lens, it can inspire you to reach new heights.
What Is Cross-Industry Intelligence, and Why Does It Matter?
The concept of B2B cross-industry intelligence involves expanding your approach to marketing by reaching outside your business sector. It's "thinking outside your industry box."
Learning from other business models exposes business leaders to new concepts--where you can apply and adapt innovations from dissimilar industries to your business model. The "Blue Ocean" approach is a helpful exercise to consider. You may feel more comfortable sticking with the devil you know, but the devil you don't know might just have a better way of doing things.
Benefits of Cross-Industry Learnings and Networking
While specific industry dynamics help shape aspects of brand building, there's an opportunity to cast a wider net as you think through your business and marketing planning. Expand your thinking beyond industry borders, and you'll be able to adapt new concepts to your B2B business model.
In addition to optimizing your marketing strategy, cross-industry learning can also benefit these areas:
Processes
Corporate Culture
Leadership
Three Ways to Learn from Other Industries and Businesses
Trying to figure out a marketing strategy takes creativity. Oftentimes, by the time you're ready to craft a plan, you've exhausted your creative muscles with one-off marketing tactics. We've seen it before, and we're sure to see it again! But, that's one benefit of the Strategy Lab. In the Lab, we help business leaders activate a growth strategy and get those creative juices flowing again.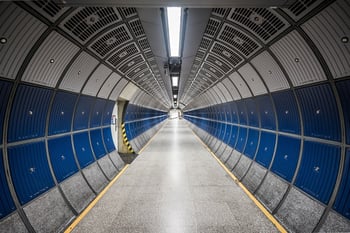 The good news is, it's not always a matter of reinventing the wheel. Sometimes, it's about adapting just one industry technique to your sector. The Lab offers new perspectives that will clear the fog and inspire forward-thinking.
After years of working with large corporations, big brands, and ambitious start-ups, there's one thing the strongest contenders have in common. They are determined enough to break free of industry-specific strategies and adapt to new channels, alternative audiences, and changing trends.
1) The Right Channels
Engagement makes up a significant part of the marketing spectrum. It doesn't matter if you're in financial planning or software development. The marketing question is the same, "What are the best channels to keep a specific audience engaged--where they are in their purchase decision-making process?"
While your competition is showing up at every industry event, your leverage may come from offering free online training or webinars to attract and measure engagement. Your competitors may pay for ranking through paid search, but you may be better positioned to generate content to build an email nurturing database. Thinking through your most promising audience--and where there's opportunity to add value for the decision-maker--can drive you to more effective channels for reach and engagement.
2) Alternative Audiences
There are opportunities to expand your products or services to groups of prospects you didn't think about before--and this approach doesn't even require a hefty investment. You can take resources you already have and put them to use.
Some questions to consider… Should you focus on the end user, or an adjacent influencer in the decision-making process? What's the role of referrers in your current business development plan? What tactics can take advantage of key opinion leaders whose work supports your points of differentiation? Don't worry if you're unsure--these are the types of decisions we work through in the Lab.
3) Changing Trends
Industry trends often stem from human behavioral changes. People alter their lifestyle leading to changes in how they research solutions and what they buy. There's no better example of this than the last year-plus, when the pandemic drastically shifted buying behaviors.
As outside influences force shifts in your business, think about the end-benefit needs your solution resolves. Where in the past your products and features may have distinguished you, today it may be more "soft skill" elements like time, trust, reputation, or a related experience that improves your relevance and taps into an emerging need.
Small Business Insights: How to Leverage Cross-industry Intelligence
In the Lab, we're constantly gathering insights from alternative industries. For instance, we're discovering how software service companies learn from financial planning organizations or home remodeling services. Although these industries are unique in many ways, there are key takeaways you can apply to your brand strategy.
Here are a few examples:
1) Indirect customers: Who are your referrers? We've set up content marketing programs containing insights that compel potential referrers to learn more. Getting these third-party insights can help you devise marketing campaigns with an influential appeal.
"It's important to not overlook outside industries when making competitive assessments."
2) Crossover customers: If you're running a B2B company with a first-mover advantage, this may be the time to explore personas that match your own in demographic or roles/responsibilities, even if they don't seem to be in the market for your innovation. Targeting some of these early adopters with content can begin a nurturing process that will yield fruit down the road.
3) Like-minded customers: Some B2B businesses have the bandwidth and budget to seek out influencers who are active in communities where they can get familiar with your brand--and your offering. In the end, they may become influencers (or even customers) over time.
A New Perspective Changes Everything
Any new marketing strategy will start with a competitive analysis. But, it's important to not overlook outside industries when making competitive assessments. Doing so will expand the view of what's possible, and eventually separate you from the competition, welcome new audiences, and provide networking opportunities.
Check out this free training from the Strategy Lab to learn more about how we help small businesses build comprehensive marketing strategies that yield measurable results.